Step into a versatile world of style with brown wigs, an essential accessory for a wide range of costumes and looks. Whether you're aiming for the soft, natural shades of a brunette for a realistic touch, embracing the rich, deep tones of chocolate brown for a dramatic transformation, or selecting a light, caramel hue for a subtle change, there's a brown wig to suit every preference. Ideal for theatrical roles, costume parties, or simply experimenting with a new hairstyle, these wigs provide the perfect opportunity to alter your appearance without commitment. Brown wigs aren't just hairpieces; they're a gateway to a new persona, enabling you to seamlessly transition into any character or style with ease and elegance.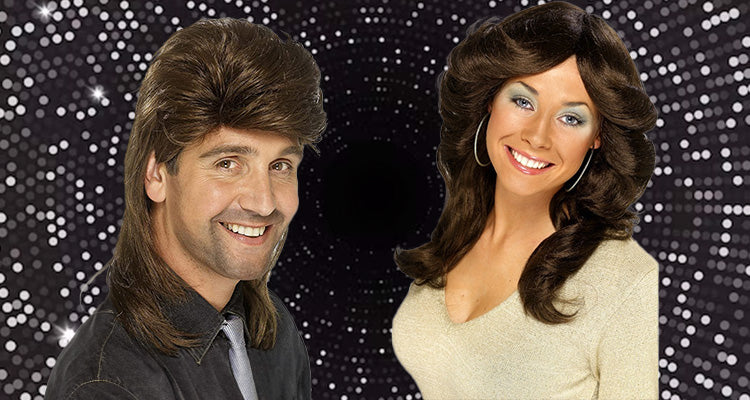 Brown Wigs
Step into the diverse and natural world of brown wigs, a versatile category that caters to both men and women. These wigs aren't just about changing hairstyles; they're a way to explore different looks, embody various characters, and express personal style with ease and comfort.
Bob wigs in brown shades offer a timeless and sophisticated look. For women, a brown bob can range from a sleek, straight cut to a wavy, more relaxed style, suitable for both professional and casual settings. For men, a shorter bob wig can provide a neat and stylish appearance, perfect for those wanting a change from their usual hairstyle.
Afro wigs in brown tones celebrate the beauty and volume of natural curly hair. For women, these wigs can range from tightly coiled to more relaxed curls, offering a way to enjoy this expressive style without the commitment of a perm. Men can also embrace this bold look, adding a fun and dynamic element to their style.
Straight wigs in various brown hues are a versatile option for both genders. Women can enjoy long, flowing locks or opt for a more understated, medium-length style. Men can choose a straight wig for a sleek and modern look, perfect for experimenting with different hair lengths and textures.
Flick wigs in brown bring a touch of retro flair. For women, these wigs with bouncy, flipped ends can create a playful and youthful look reminiscent of classic styles from past decades. Men can also partake in this retro trend, offering a fun and unique way to change their appearance for special occasions or costume parties.
Brown wigs also play an important role in fashion and entertainment, aiding in character portrayal and style transformations. They're a practical choice for those experiencing hair thinning or loss, providing a natural-looking solution that boosts confidence and style.
In summary, brown wigs in styles like bob, afro, straight, and flick cater to a wide range of preferences for both men and women. They offer a natural and accessible way to experiment with different hairstyles, enhancing personal style and allowing for creative expression through hair.