Hippie Costumes
125 products
Dress up in groovy hippie costumes and have fun pretending you're in the colorful 1960s! Imagine yourself wearing a tie-dye shirt with lots of bright colors, a headband, and cool, round sunglasses. These costumes are perfect for fun dress-up parties, school events, or just playing at home. Hippie costumes let you act like you're at a peaceful, music-filled festival, making playtime really cool and joyful. They're not just costumes; they help you become part of the fun and loving hippie world. So, put on your hippie outfit and get ready for a day full of music, peace, and groovy fun!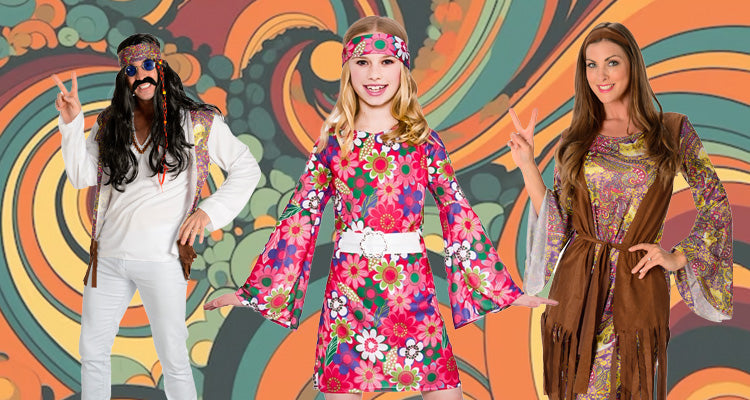 Shop Groovy Hippie Fancy Dress Outfits
Step back in time and embrace the spirit of the '60s with our collection of hippie-inspired fancy dress outfits. Get ready to channel your inner flower child and groove to the beat in our vibrant and psychedelic hippie costumes, perfect for capturing the essence of the era.
Embrace Flower Power: Stylish Hippie Attire
Embody the free-spirited essence of the '60s with our range of stylish hippie-themed costumes for both kids and adults. Whether you're dressing up for a party or a themed event, our outfits capture the carefree and funky vibes of the hippie movement. From tie-dye shirts to bell-bottom pants, you'll be the epitome of groovy style.
Complete Your Look: Hippie Accessories
No hippie outfit is complete without the right accessories. Enhance your groovy ensemble with our matching accessories, including hippie peace sign glasses and go-go dancer platform boots. These finishing touches add an extra layer of authenticity to your look, ensuring you're ready to hit the dance floor and spread those positive vibes.
Embrace Nostalgia: Relive the '60s
The 1960s was a revolutionary era for fashion, and our hippie costumes allow you to relive the golden age of self-expression and individuality. Whether you're a fan of the peace and love movement or you're channelling your inner Austin Powers, our outfits capture the iconic styles and trends that defined the decade.
Get Your Groove On
Step into the world of the '60s and let your inner hippie shine with our groovy hippie fancy dress outfits. Whether you're unleashing your flower power, donning tie-dye, or embracing the bohemian lifestyle, our costumes transport you back to a time of peace, love, and rock 'n' roll. So, throw on your favourite ensemble, hit the dance floor, and get ready to groove to the beat of a different era.