Disney Costumes
106 products
Our huge selection of Disney fancy dress costumes and accessories have everything you need to recreate your favourite characters costume. We have Disney character costumes for adults and kids of all ages, so weather you are heading to a fairytale themed fancy dress party or you're looking for general Disney dressing up costumes, our massive selection has you covered!
Browse our magical selection and choose your favourite, we have everything from stunning Disney Princess costumes including Belle and Cinderella, or maybe you would rather transform into The Incredibles- great for family dress up! We also stock a great range of costumes from all the recent Disney movies such as Frozen and Toy Story costumes, with the new Toy Story 4, Forky character costume! Not to mention our Peter Pan, 101 Dalmatians and Disney's Alice In Wonderland fancy dress costumes. So whether you are going to fly away to infinity and beyond in your Buzz Lightyear costume or create your own fairytale dressed up as a Disney Princess we are sure you will look the part in our Disney Fancy dress!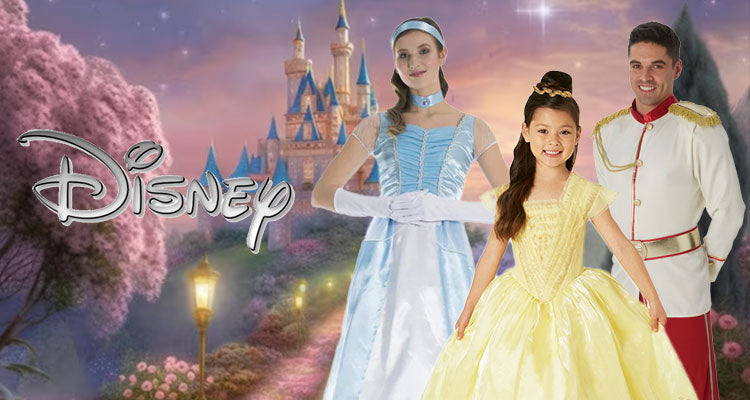 Embrace the Magic of Disney: Kids and Adults Disney Fancy Dress Extravaganza!
Kids Disney Costumes: Spark Imaginations and Create Marvellous Memories!
Ignite the imagination of your little ones with our captivating Kids Disney Costumes. From timeless classics to the latest releases, our collection brings beloved Disney characters to life. Watch as they transform into their favourite heroes and heroines, whether it's joining the ranks of Toy Story's Woody and Buzz or enchanting the kingdom as Elsa from 'Frozen.' Let the magic of Disney spark their creativity and make every moment a memory to cherish.
Adult Disney Costumes: Relive the Magic in Style
For the young at heart, our Adult Disney Costumes offer the perfect opportunity to relive the magic of Disney in style. Whether you're attending a themed party, event, or simply embracing the joy of dressing up, our collection has you covered. Embody the elegance of a Disney Princess or channel the wit and charm of beloved characters like the Mad Hatter or Captain Jack Sparrow. With a wide range of options, our Adult Disney Costumes bring the enchantment of Disney to life in a new and exciting way.
Unveil the Enchantment: Explore Disney Fancy Dress Collection
Discover a world of wonder and excitement in our Disney Fancy Dress Collection. From Kids Disney Costumes that nurture creativity to Adult Disney Costumes that let you relive cherished memories, our range caters to every Disney enthusiast. Join the magical journey and transform into the characters that have touched hearts for generations. Experience the enchantment first-hand and make your next event an unforgettable adventure through the realms of Disney fantasy!