Women's Fancy Dress Costume Ideas
Discover 100s of costume ideas for women
Transform into your favourite character with our women's costumes. But if you're stuck for ideas on what to wear, that's where we can help. Our ladies' fancy dress collection covers an array of themes from our poplar fairytale, pirate or hippie costumes to our Abba-inspired fancy dress or decades looks.

Our women's costumes cater to a wide range of styles and sizes, with most costumes going up to a size XL and a dedicated plus size range so everyone can look fabulous. We're constantly adding to our range and have recently added more women's Barbie and Wednesday Addams costumes in stock for 2023.

Take to the high seas in our sexy pirate costumes, perfect for swashbuckling adventures. We also stock a range of land-based occupations, from our constable cutie to land girl fancy dress.

For those relieving the iconic decades, our range of 60s, 70s and 80s fancy dress for women is perfect for throwback parties and nights out with the girls. With bold, groovy looks you'll be the center of attention or go one step further as a decades icon. From our officially licensed Grease Pink Ladies Jacket to our ABBA fancy dress costumes, you'll be dancing the night away in style.

Unleash your inner superhero with our range of licensed Catwoman, Supergirl and Harley Quinn costumes, a great choice for Halloween. Be instantly recognisable in our large range of branded fancy dress. We also stock a range of Licensed Disney Princess costumes, Star Wars and Toy story outfits.

From the elegant to the seductive our range of women's costume outfits is sure to have something for your theme and budget.
Shop All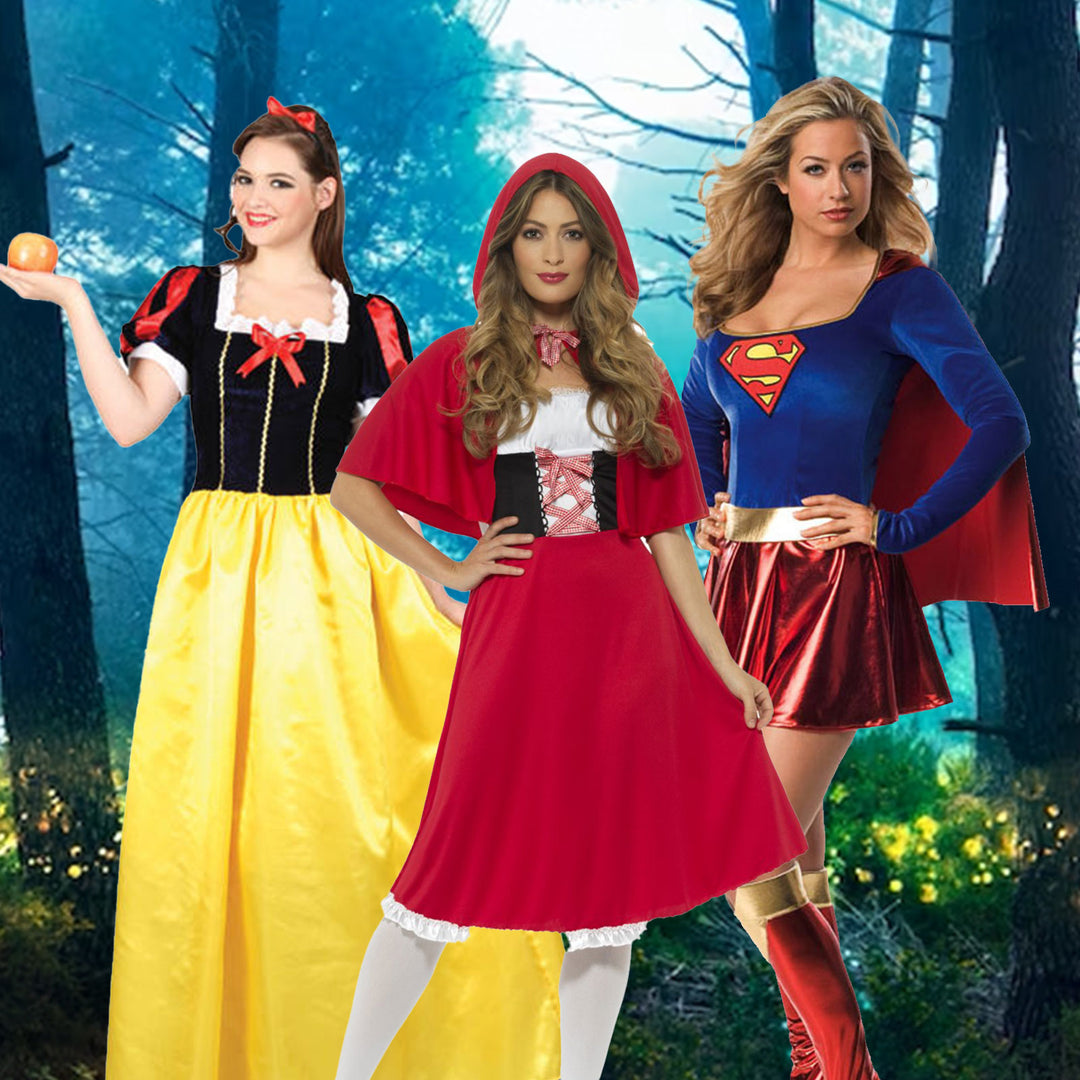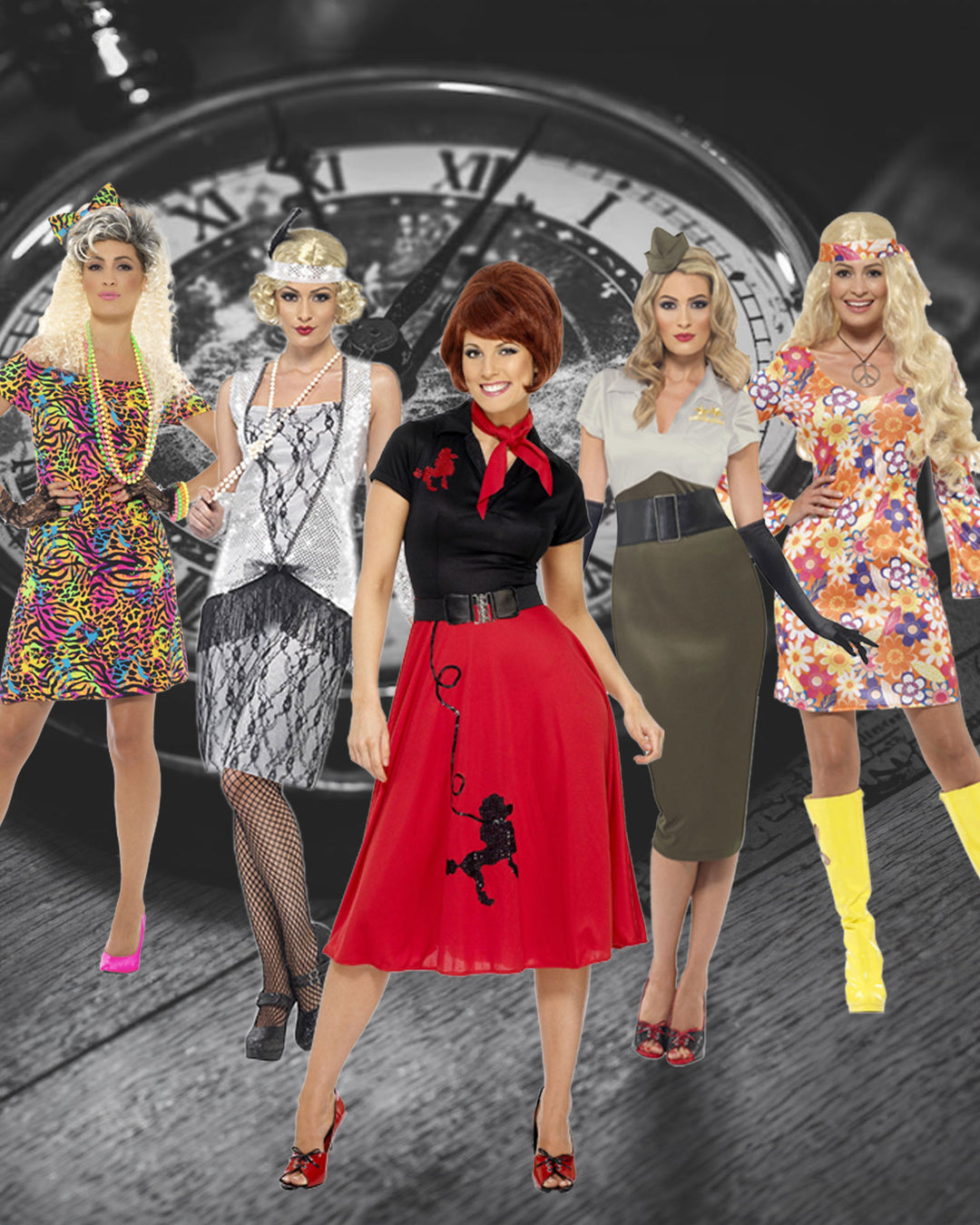 Women's Decades Costume Ideas
With an iconic fashion sense with bold outfits and hairstyles, it's no wonder our decade's costumes are our one of our most popular women's themes.

Our collection starts in the roaring 20s with our flapper girl's fancy dress. Complete the look with a boa and cigarette holder and you'll look straight from the set of the Great Gatsby.

Through the 40s women had a role to play too. Our costumes from the Home Front like our land girl outfit make a great choice for any WW2-themed event and World Book Day.

Our 50s fancy dress costumes embody a pink era of poodle skirts and Grease. Our officially licensed Pink Ladies jacket is one of our bestsellers and comes in sizes UK 4-22.

The 60s was the summer of love and our hippie outfits are perfect for adding some flower power to your costume. With flared trousers, tie-dye tops and a pair of go-go boots you'll be ready to party at your next festival.

No 70s costume would be complete without mentioning our ABBA fancy dress costume. Look like a Super Trooper with our dancing diva jumpsuits and 2 pieces.

Our vibrant 80s costumes and accessories will really light up the room. With our bright neon accessories and matching fishnet, you'll be the life of the party. Also from the 80s is our women's shellsuits which make a great choice for couples.

From the 90s we stock Ginger Spice's Union Jack dress, Baywatch lifeguard costumes and Mario fancy dress which will leave a memorable impression at any decade's party.
Top Fancy Dress Themes for Women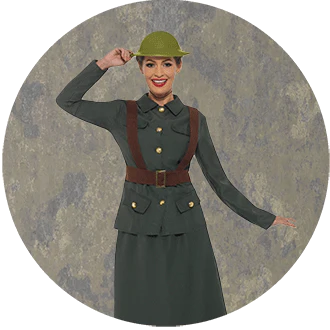 Ladies' 40s Costumes
Play your party in WW2 with our range of women's 40s costumes from the home front.
Shop Now
Ladies' 60s Costumes
Our 60s flower power outfits make a bright, colourful choice for your next festival or throwback party.
Shop Now
Ladies' 80s Costumes
Shop our vibrant selection of ladies 80s neon and fishnet costumes and our popular shellsuits.
Shop Now
Women's 1920s Costume Ideas
Turn into a flapper showgirl with our 1920s fancy dress costumes for women. With a variety of styles available make sure you add a headpiece, cigarette holder and pearl neckless to complete your look.
Shop Now
Hippie Costume Ideas for Women
Our flower power outfits are a great choice for a 60s-themed party and your next festival. Find tie-dyed tops, Woodstock hippies and a range of colourful styles for women. Complete the look with our hippie accessories and go go boots.
Shop Now
Trending Ladies' Costume Themes