Boas & Scarves Accessories
28 products
Wrap up in stylish boas and scarves and get ready for a day full of flair and fabulous fashion! Imagine yourself draped in a feathery boa, perfect for jazzing up a 1920s flapper costume or adding a touch of glamour to any party outfit. Then, switch to a classic 50s scarf, tied neatly around your neck or hair, for a look straight out of a retro diner. Don't forget the cowboy bandanas, adding a rugged and adventurous touch to a western ensemble. These boas and scarves are perfect capturing the spirit of different eras, from the roaring twenties and the rocking fifties to the wild west, and everything in between. So, pick your favorite boa, scarf, or bandana, whether it's fluffy, silky, or patterned, and get ready for a day of dressing up, having fun, and showing off your unique style!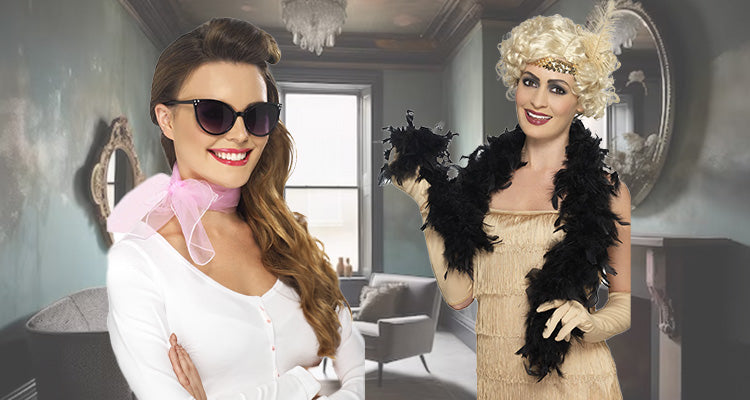 Complete your glamorous 20s flapper costume or sexy burlesque outfit with our stylish collection of Boas and Scarves. Feather boas are an excellent way to add a colourful yet feminine touch to your fancy dress costume and act as a cheeky accessory for a range of themes, from Moulin Rouge to Hen Parties!
Look at our fantastic selection and complete an array of fancy dress costumes without spending too much. We also stock a huge collection of Scarves, which are perfect for adding the finishing touches to your Harry Potter or 50s costume. Our licensed Hogwarts scarf has proved to be a massive hit due to the success of the recent films and is suitable for both adults and kids and can be worn during World Book Day.
Or if you're thinking of swinging back to the rock n roll era of the 1950s, then our Baby Pink 50s Neck Scarf is the perfect addition to any Pink Ladies or woman's fifties costume. So why not take a look at our fantastic range of Boas and Scarves and add a sexy yet sophisticated finishing touch to your fancy dress costume, whatever the theme?