Pirate Costumes
193 products
Dress up in cool pirate costumes and get ready for a day filled with adventure and treasure hunting! Imagine wearing a pirate hat, a patch over one eye, and a pretend sword at your side. These costumes are perfect for fun parties, school plays, or just playing at home. Pirate costumes let you pretend to sail the seas, explore islands, and search for hidden treasures, making playtime super exciting. So, put on your pirate outfit and get ready for a day of swashbuckling fun and adventures!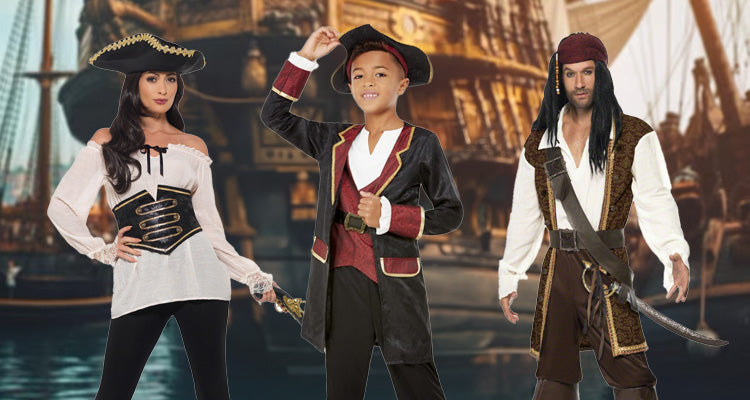 Ahoy, Matey! Set Sail in Style with Pirate Costumes
Avast ye! Prepare to embark on a swashbuckling adventure with our captivating collection of Pirate Costumes, perfect for any fancy dress party. Whether you're a seasoned pirate enthusiast or a young buccaneer in training, our range offers a sea of options to choose from.
For the Daring Pirates: Men's Pirate Costumes
Step into the shoes of a fearless pirate leader with our selection of Men's Pirate costumes. Become a rugged Captain ready to command the ship with authority and style, as you set out to conquer the seven seas.
Pirate Elegance: Women's Pirate Attire
Ladies, rule the seas in style with our Women's Pirate costumes. Transform into a fierce Pirate Queen, exuding confidence and power as you embark on your own high-seas adventure.
Junior Swashbucklers: Kids' Pirate Adventures
Even the littlest adventurers can join in on the pirate fun with our selection of kids' Pirate costumes. From stylish Swashbucklers to loyal Shipmates, our outfits for children will have them ready to explore uncharted waters and seek out hidden treasures.
Legendary Inspiration: Pirates of the Caribbean
If you're a fan of the iconic Pirates of the Caribbean series, look no further. Our collection includes Jack Sparrow-inspired costumes that capture the essence of this legendary character. Channel your inner Jack Sparrow and bring the magic of the movies to life.
Discover Your Perfect Look: Adults and Kids Pirate Costumes
Navigate through our wide range of Pirate Costumes designed for both adults and kids. With options ranging from rugged Captains to adventurous Shipmates, there's a costume waiting to match your unique style and preference.
Hoist the Jolly Roger: Unleash Your Inner Pirate
The true treasure lies in your choice of Pirate Costume. Whether you're a fierce Captain, a young Swashbuckler, or a spirited Pirate Queen, our outfits allow you to unleash your inner pirate and make a splash at any event.
So, gather your crew, raise the Jolly Roger, and set sail on an unforgettable costume experience with our diverse and exciting Pirate Costumes. With every choice, you're sure to make waves and leave a lasting impression on the high seas of imagination and adventure.
Set Sail in Style: Pirate Costumes for All Ages!
Ahoy, Matey! Get ready for a swashbuckling adventure with our captivating collection of Pirate Costumes. From the high seas to the grandest parties, Mega Fancy Dress has the perfect attire for pirates of all ages.