National Dress Costumes
168 products
Dress up in national dress costumes from around the world and have fun exploring different cultures! Imagine yourself wearing a beautiful kimono from Japan, a colorful sari from India, a kilt from Scotland, or even a bright sombrero from Mexico. These costumes are perfect for learning about different countries, cultural events at school, or just playing at home. National dress costumes let you experience what people wear in other parts of the world, making playtime really interesting and educational. So, put on a costume from another country and get ready for a day full of exploring and learning about the world!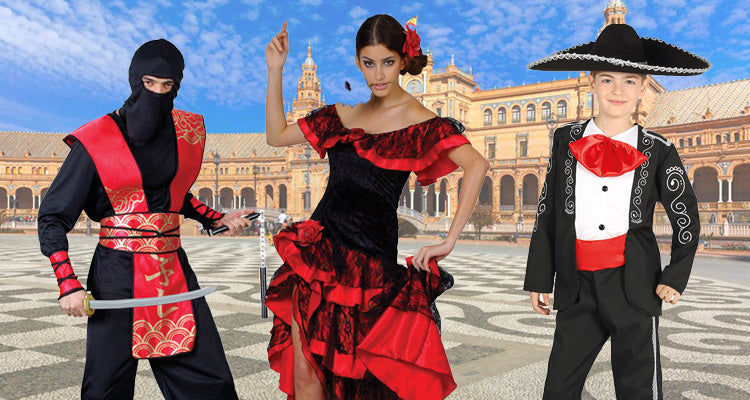 Shop International Fancy Dress Costumes from Around the World
Explore a Global Tapestry of Attire
Embark on a journey across continents with our diverse collection of international fancy dress costumes, catering to both men and women. Dive into the rich tapestry of cultures and traditions as you step into the shoes of iconic figures from around the world.
For Women: Celebrate Cultural Elegance
For women, our selection includes a wide array of options, from the enchanting allure of Lucky Leprechaun outfits to the graceful elegance of Statue of Liberty costumes. Embrace the vibrancy of international festivals by donning a fabulous Flamenco dancer ensemble, capturing the passion of Spanish culture. Or perhaps choose to radiate Bavarian charm with traditional dirndls, celebrating the heart-warming spirit of Oktoberfest. No matter the occasion, our range allows women to authentically embrace the cultural essence of each outfit.
For Men: Embrace Iconic Traditions
For men, the choices are equally captivating. Experience the strength and flair of cultures as you transform into a Spanish Matador, radiating the confidence of this revered figure. Dive into the festivities of Oktoberfest with our specially crafted Bavarian lederhosen, capturing the celebratory atmosphere of the festival. From embodying the luck of the Irish as a Leprechaun to standing tall as the Statue of Liberty, our men's costumes offer a chance to honour cultural symbols and traditions.
Celebrate with Festive Ensembles
Celebrate diversity and authenticity with our collection of Bavarian Festival costumes, perfect for Oktoberfest celebrations. Dive into the heart of culture with Mexican-inspired fancy dress outfits, allowing you to become a part of lively fiestas. Women can radiate Bavarian charm, while men can revel in the festive spirit, both ensuring that the atmosphere is as lively as the occasion demands.
Experience the Global Melting Pot
Our international costumes offer a unique way to experience cultures from various corners of the world. Feel the pride of different traditions as you celebrate alongside others. Men and women alike can embrace the cultural richness and significance behind each outfit, embodying the essence of global diversity.
Dress the Part, Embrace the World
Whether you're a man or a woman, our international fancy dress costumes enable you to dress the part and fully immerse yourself in the spirit of cultures worldwide. From men's Bavarian lederhosen to women's captivating Flamenco dresses, each outfit is meticulously designed to honour its origin. Step into the spotlight and honours the world's beauty and variety with your unique ensemble.