Licensed Superman Fancy Dress Costumes
23 products
Did you know Superman is the best-selling superhero in comic books of all time?

Swoop through the skies and impress your friends at your next comic book-themed fancy dress party in your Superman fancy dress.

Unlock your Super-strength, speed, and X-ray vision, we are sure you will feel superhuman powers when you are wearing one of our Superman fancy dress costumes!

Our range of adults and kids Superman costumes is sure to make you feel like a hero! They are also perfect for World Book Day.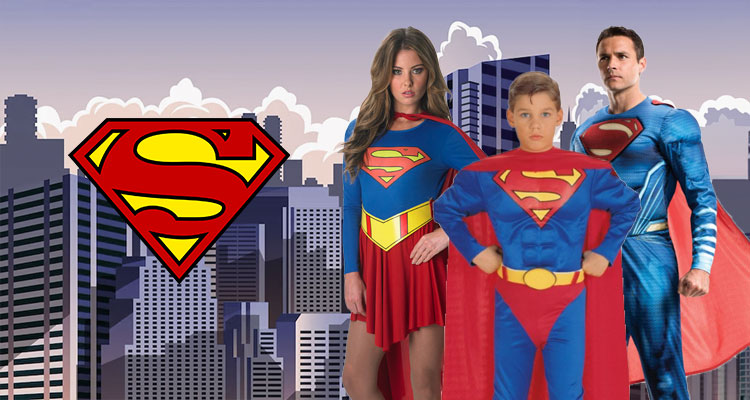 Embrace the Legacy of Superman for Adults
Step into the boots of the world's most iconic superhero with our Superman Fancy Dress Costumes. Crafted for those who wish to embody the invincible aura of Clark Kent. Feel the strength and charm of the Man of Steel as you don the classic blue suit, complete with the iconic 'S' emblem. Whether you're attending a superhero-themed party or a Halloween bash, these officially licensed costumes will ensure you're the centre of attention, leaving a lasting impression on all who behold your heroic visage.
Ignite the Imagination of Young Heroes with Kids Superman Costumes

For the young fans who dream of soaring through the skies of Metropolis, our kid's Superman costumes are a perfect choice. These outfits are designed to inspire and delight, helping your little ones feel just like their favourite hero. From the vibrant colours to the emblematic 'S', every detail is crafted to spark imagination and adventure at their next party.
Celebrate the Rich Legacy of Superman Comics

Donning a Superman costume is more than just dressing up; it's a tribute to the enduring legacy of one of the most beloved characters in comic book history. Created by Jerry Siegel and Joe Shuster, Superman first appeared in Action Comics #1 in 1938 and has since become a cultural icon, symbolizing hope, justice, and the inherent goodness of humanity. Our collection of Superman costumes pays homage to the various iterations of the Man of Steel, from the Golden Age comics to the modern cinematic portrayals.