Halloween Wigs
43 products
Transform your Halloween look with our spook-tacular collection of Halloween wigs at Mega Fancy Dress! Whether you're dressing up as a wicked witch, a creepy vampire, or any other eerie character, we have the perfect wig to complete your costume. Explore a wide variety of hair-raising colours and styles that will leave everyone mesmerized on October 31st!

Our quality Halloween wigs are designed to provide a perfect fit and comfort. From long and flowing locks to wild and untamed tresses, our selection has something to suit every ghoul and goblin.

Forget the hassle of searching through multiple stores; we offer these bewitching wigs at unbeatable prices. Plus, with our next day delivery option, you won't have to wait long to get your hands on the perfect hairpiece. Get ready to enchant and impress with our Halloween wigs.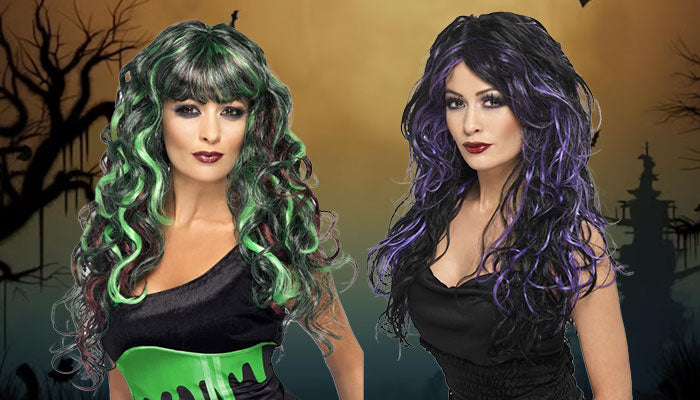 Halloween Wigs
Step into the spooky and imaginative realm of Halloween wigs, where creativity and fright combine to enhance costumes for both men and women. Halloween wigs are not just mere accessories; they're essential elements in crafting the perfect Halloween look, providing the finishing touches to a wide range of eerie, whimsical, or fantastical characters.
For women, Halloween wigs might include long, flowing locks in ghostly white for a spectral appearance, or vibrant red for a devilish look. Black wigs with high volume and wild styles can complete a witch's costume, while unnaturally colored wigs in greens or purples are perfect for fairy, mermaid, or other fantasy-themed outfits. These wigs allow for dramatic transformations, helping women fully embody their chosen Halloween persona.
Men's Halloween wigs range from ghoulish and undead styles to more character-specific options. A classic vampire look can be achieved with a slick, back-combed black wig, while a mad scientist character might call for a wild, unkempt white wig. For those dressing as iconic horror movie characters, wigs that replicate these figures' hairstyles are crucial in nailing the look.
Kids' Halloween wigs add an element of fun and excitement to their costumes. Brightly colored wigs for clown or superhero costumes, or more natural-looking wigs for young vampires or werewolves, help children get into character and enjoy the Halloween festivities to the fullest.
In summary, Halloween wigs for men, women, and kids are a vital part of Halloween costume preparation. They come in a wide range of styles, from scary to whimsical, helping to complete the transformation into any spooky, eerie, or fantastical character. These wigs enhance the overall effect of the costume, making Halloween celebrations more immersive and enjoyable.