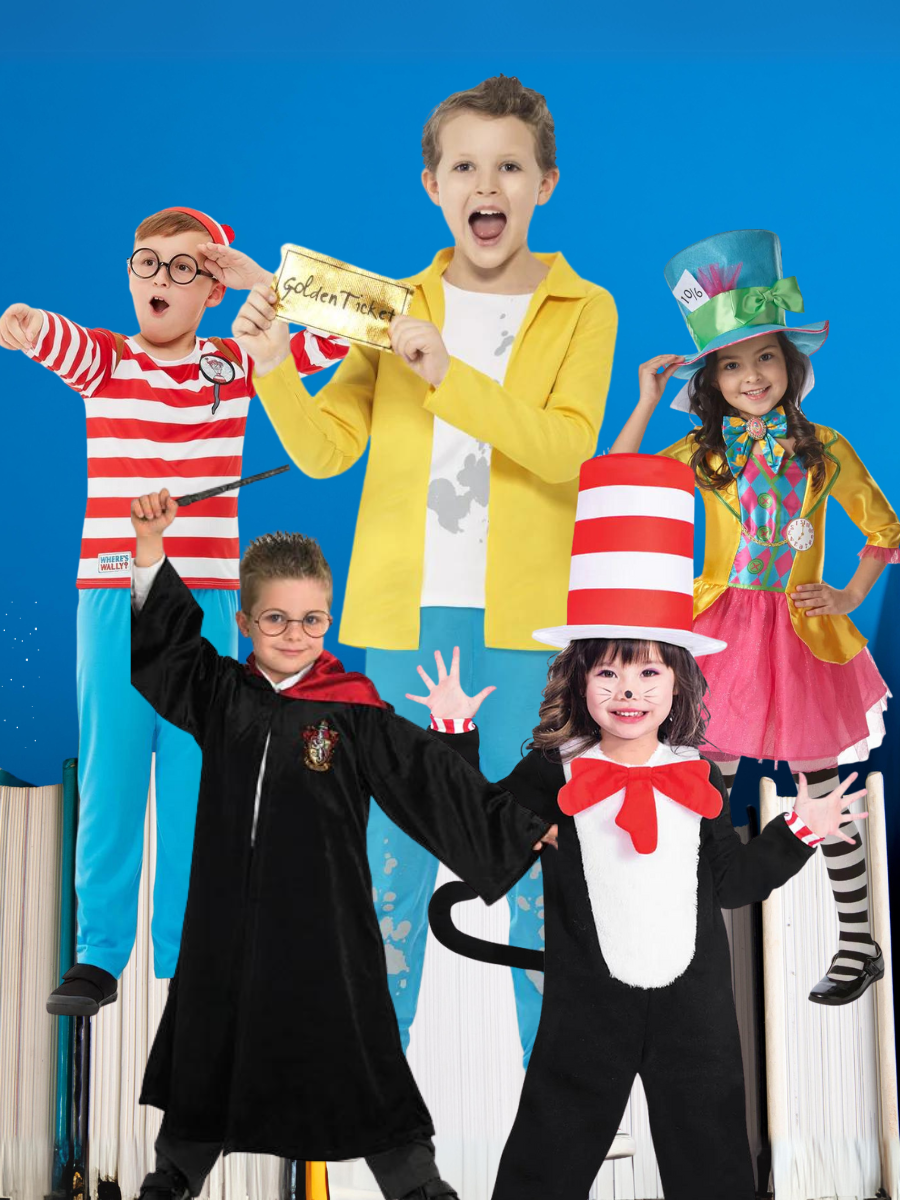 World Book Day Costumes 2024
Explore our remarkable Walliams costumes for kids
Featuring iconic characters from beloved books such as Gangsta Granny, Ratburger, Billionaire Boy, Mr Stink, Awful Auntie, and even The Boy in the Dress.
Discover the many humorous characters from his storybooks that have become an absolute hit among kids on World Book Day, inspiring delightful fancy dress choices! Guaranteed to tickle your classmates' funny bones during this delightful celebration of literature!

Shop Now
Trending World Book Day Costumes
She will be the fairest of them all
We stock all the Disney princess fancy dress costumes including The Little Mermaids Ariel, the classic pink Aurora costumes and the incredibly popular Cinderella fancy dress, so we are sure you will find the perfect Disney Princess fancy dress for your little one!
World Book Day Characters
Licensed Harry Potter Costumes
J.K. Rowling, telling the story of a young wizard and his friends time at the legendary Hogwarts School of Witchcraft and Wizardry. Harry Potter is one of the most popular wizards ever, making all of the characters incredibly popular for World Book Day!
Explore Roald Dahl's Marvellous Characters
Roald Dahl was a spy, an ace fighter pilot, a chocolate historian and an author of many beloved children's books including Charlie and the Chocolate Factory, Matilda, James and the Giant Peach and The BFG.
Snow White Costumes
With another remake releasing in March 2024 you too could meet the Seven Dwarfs in our Snow White costumes for women and girls.
Shop Now
Dr Seuss Costumes
Take a look at our Dr Seuss range where you will find some of his most famous storybook character costumes like Cat in the Hat and the Thing Twins.
Shop Now
Alice In Wonderland Costumes
Fall down the rabbit hole with our Alice in Wonderland, Mad Hatter and White Rabbit Fancy Dress Costumes
Shop Now
World Book Day Costumes
Celebrate the joy of reading and literature with World Book Day costumes, a creative and fun way to bring favorite book characters to life. These costumes are a portal to the imaginative worlds created by authors like Roald Dahl, David Walliams, and many others, offering options for men, women, girls, and boys.

Roald Dahl's book characters are a treasure trove of costume ideas. Men and boys can step into the shoes of the cunning Mr. Fox or the lovable BFG, while women and girls can transform into the brilliant Matilda or the magical Mrs Twit. These costumes capture the charm of Dahl's characters, perfect for school events or themed parties.

David Walliams' characters have become increasingly popular for World Book Day. From the adventurous Gangsta Granny to the unique Boy in the Dress, there's a Walliams character for everyone. These costumes often include props and accessories that bring these beloved characters to life, making them a hit for fans of all ages.

Little Red Riding Hood costumes are a classic choice and can be adapted for any age. The iconic red cape and hood make this a recognizable and beloved outfit, perfect for girls wanting to recreate this timeless fairy tale character for women or girls.

Where's Wally costumes are universally appealing, with their distinctive red and white striped shirts and bobble hats. These outfits are straightforward yet instantly recognizable, making them a great option for anyone who enjoys the fun of the search-and-find books.

In summary, World Book Day costumes offer a wonderful way for men, women, girls, and boys to celebrate their favorite stories and characters. From the imaginative worlds of Roald Dahl and David Walliams to classic fairy tales like Little Red Riding Hood and engaging search-and-find adventures like Where's Wally, these costumes provide an exciting opportunity to step into the pages of beloved books and bring literary characters to life.