Licensed Hulk Fancy Dress Costumes
19 products
The Hulk first appeared in the Marvel Comics' debut issue of The Incredible Hulk way back in 1962. Our great selection of adult and kids Hulk costumes is sure to make you anything but angry!

Stun your friends with your incredible Hulk fancy dress costume and show off your superhuman powers when you dress up as this famously green superhero! Let's hope your friends don't make you angry...

Our Hulk Fancy dress costumes are a great choice for your adventures this Halloween, and our Hulk costumes are also great for Comic Book-themed fancy dress!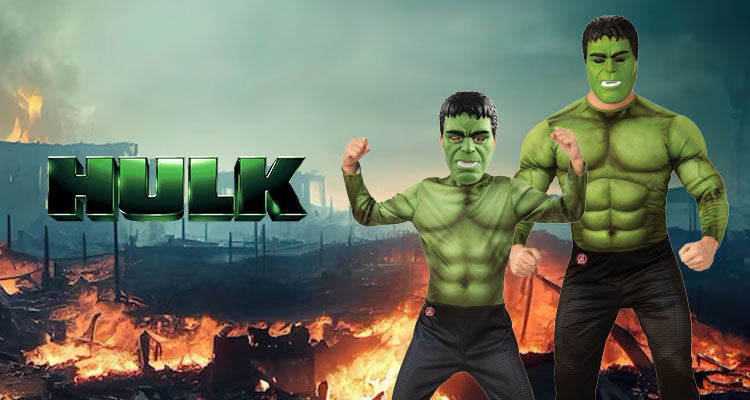 Shop Licensed Hulk Costumes for Adults & Kids
Step into the colossal shoes of one of Marvel's most beloved titans with our selection of officially licensed Hulk costumes, perfect for both adults and kids. Since his thunderous debut in 1962's "The Incredible Hulk," this green goliath has smashed his way into the hearts of fans, becoming a symbol of raw strength and the struggle for control between man and the monster within.

Our array of Hulk costumes allows you to channel the sheer power and iconic look of the character. Whether you're attending a Halloween bash, a comic book-themed event, or just looking for an excuse to show off your 'Hulk smash!' impression, these costumes are designed to impress. Crafted to mirror the Hulk's muscular physique and vibrant green skin, you'll feel like you've stepped right out of the pages of a comic book or off the big screen.

For the little Avengers-in-training, our kids' Hulk costumes are the perfect way to express their inner superheroes. Let them unleash their playful energy as they embody the Hulk's larger-than-life persona. And for the adults, our costumes offer a chance to stun friends and family with an impressive transformation, showcasing the Hulk's superhuman powers.

Our Hulk Fancy Dress costumes are not only a great choice for Halloween but also for any occasion that calls for a heroic display. So, this Halloween, don't keep the beast at bay. Embrace your inner Hulk, and let's just hope your friends remember not to make you angry!