Licensed The Incredibles Fancy Dress Costumes
4 products
Take your superhuman skills to the next level with our full range of fancy dress costumes from the famous Disney film, The Incredibles.

We've got your entire family covered- even the dog, with our classic The Incredibles fancy dress! Dress your little ones up as Violet, Jack Jack or Dash, whilst you are there, take a look at our Ladies Elastigirl costumes and of course, the popular Mr Incredible fancy dress.

The Incredibles are a great choice for any family going to a fancy dress party! They are also great for comic book-themed fancy dress events.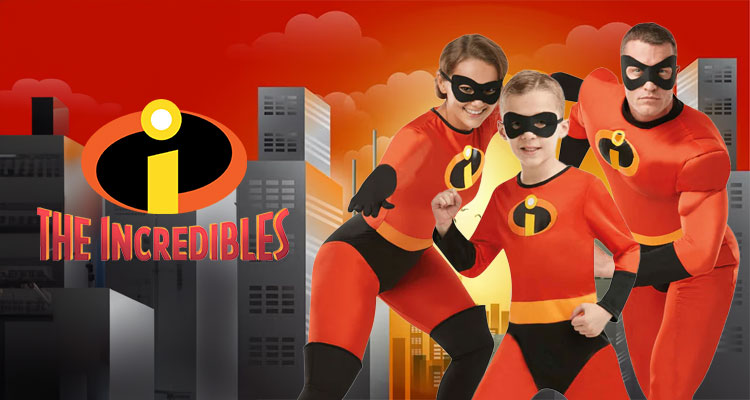 Shop Licensed The Incredibles Costumes for Adults & Kids 
Let everyone in your family have superhuman abilities with our collection of licensed Disney The Incredibles fancy dress costumes. Dive into the world of the extraordinary Parr family, where each member boasts unique powers that contribute to their superheroic feats.

Transform your little ones into the swift Dash, the force-field-wielding Violet, or the unpredictable Jack-Jack, each costume reflecting the characters' distinctive red and black suits. Don't forget to check out our Ladies' Elastigirl costumes, capturing her flexibility and resilience, and our popular Mr. Incredible outfits, perfect for those looking to embody strength and leadership.

Our "The Incredibles" costumes are not only a hit for family gatherings but also make an exceptional choice for comic book-themed fancy dress events. These officially licensed outfits, complete with the iconic "i" emblem, are crafted with care to ensure authenticity and comfort for all-day wear.

Stepping out as "The Incredibles" is more than just a group costume choice; it's a celebration of individual strengths and family unity. Whether you're attending a Halloween party, a birthday bash, or a comic-themed event, these costumes offer a fun and cohesive way for the whole family to engage in the festivities. So, suit up, and get ready to make an incredible entrance at your next fancy dress party!