Caveman & Cavewoman Fancy Dress Costumes
25 products
Step back in time and immerse yourself in the ancient world of the Stone Age with our prehistoric Caveman and Cavewoman costumes! Our range of caveman outfits for both adults and kids will be sure to turn you into a true primitive dweller.

Journey back in time with our extraordinary collection of caveman fancy dress with their animal print designs. These costumes will truly make you feel like you've stepped straight out of a cave painting.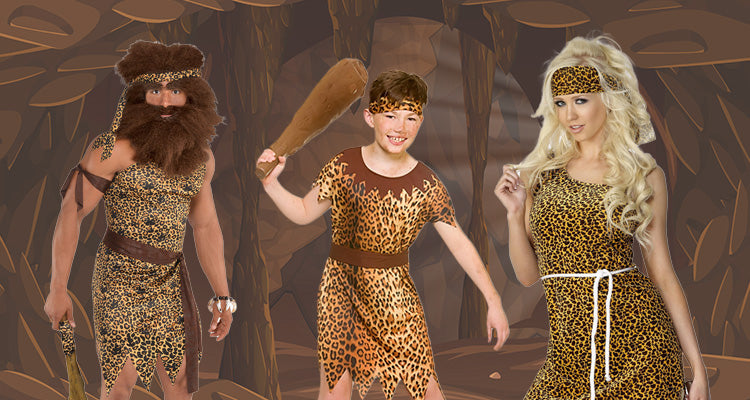 Step into the Stone Age with Caveman Costumes for Adults & Kids
Our Caveman and Cavewoman costumes let you immerse yourself in the primitive era and embrace the spirit of the past. With our animal print fancy dress outfits, you'll look prehistoric and feel the excitement and wonder of an era long gone!
Licensed Flintstones Fancy Dres Costumes
Transport yourself to the world of the Flintstones with our licensed character costumes. Become Fred, Pebbles, or Wilma and step right into the heart of Bedrock. Relive the adventures of this beloved Stone Age family and yabba dabba doo all night long.
Caveman Fancy Dress Costumes for Adults
For adults seeking to make a statement at any event, our Adult Caveman and Cavewoman Costumes are the perfect choice. Embody the primal energy of our ancient predecessors; whether you're Fred Flintstone, Wilma, or embracing your own caveman or cavewoman persona, you'll stand out in style.
Roar into the Past with our Caveman Costumes for Kids
Kids can join in the fun with our Kid's Caveman and Cavewoman Costumes. Watch their faces light up as they step into the shoes of prehistoric explorers. These outfits inspire imagination and play, offering endless adventures in the land of dinosaurs and stone tools.
Complete the Prehistoric Look with Authentic Costume Accessories
No caveman or cavewoman outfit is complete without authentic accessories that take you back in time. From stone-age jewellery to inflatable clubs, our selection adds the finishing touch to your prehistoric fancy dress.
Relive the Past: Unearth the Joy of Caveman and Cavewoman Fancy Dress
Go back to the prehistoric era with our Caveman and Cavewoman fancy dress collection. Whether you're looking to channel the fun of the Flintstones or explore the world of primitive humans, our range offers options for everyone. Step into the past, let your imagination run wild, and create memories that will last a lifetime!