Victorian Costumes
54 products
Dress up in fancy Victorian costumes and get ready for a day filled with elegance and old-time adventures! Imagine yourself wearing a long, frilly dress with lots of lace, or a top hat and a smart suit like people did a long time ago. These costumes are perfect for school projects about history, themed parties, or just playing dress-up at home. Victorian costumes let you pretend to be part of the fancy Victorian era, when people rode in carriages and wrote letters with feather pens, making playtime really interesting and fun. So, put on your Victorian outfit and get ready for a day of fancy tea parties and grand adventures!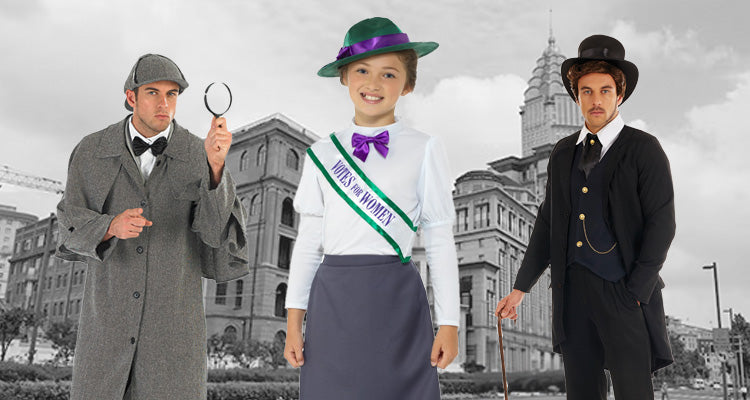 Step into the Victorian Era:
Transport yourself to the enchanting world of 19th-century London with our exquisite collection of Victorian fancy dress costume ideas. Immerse yourself in the rich history and captivating characters that defined the era, perfect for occasions like World Book Day, Victorian Day, and school nativity plays.
Embrace the Classics
Explore a wide range of costumes inspired by iconic Victorian characters that have left their mark on literature and history. Step into the shoes of Oliver Twist and The Artful Dodger, embodying the spirit of old London town. These costumes are not only historically significant but also a delightful choice for various themed events.
Empowering Victorian Suffragettes
Celebrate the power and resilience of Victorian suffragettes with our range of empowering costumes. Capture the essence of their fight for equality and women's rights, making a strong statement at any event. These costumes are a tribute to the brave women who shaped history.
Nanny with a Touch of Magic
Pay homage to the beloved Mary Poppins, the most famous Victorian nanny, with our enchanting costume options. Embody her whimsical charm and iconic style, adding a touch of magic to your dress-up experience. Whether for themed parties or nostalgic events, Mary Poppins is always a crowd-pleaser.
Unleash Your Inner Detective
Put on your detective hat and channel the brilliant Sherlock Holmes with our book week costumes. Embrace the intrigue and mystery of Victorian-era London as you step into the shoes of this legendary detective. These costumes are perfect for unleashing your inner sleuth.