Fairytale Costumes
Dive into a world of magic and wonder with fairytale costumes, perfect for bringing enchanting stories to life! Picture yourself as a brave knight battling dragons, a beautiful princess in a sparkling gown, or even a cunning wizard with a mysterious cloak. These costumes are fantastic for dress-up parties, school plays, or just for a day filled with magical adventures at home. Fairytale costumes let you step into the shoes of beloved characters from classic tales, transforming an ordinary day into an extraordinary fairy tale. They're not just costumes; they're your key to a kingdom of imagination where anything is possible. So, choose your favorite fairy tale, dress up as its hero or heroine, and get ready for a day full of enchantment and fun!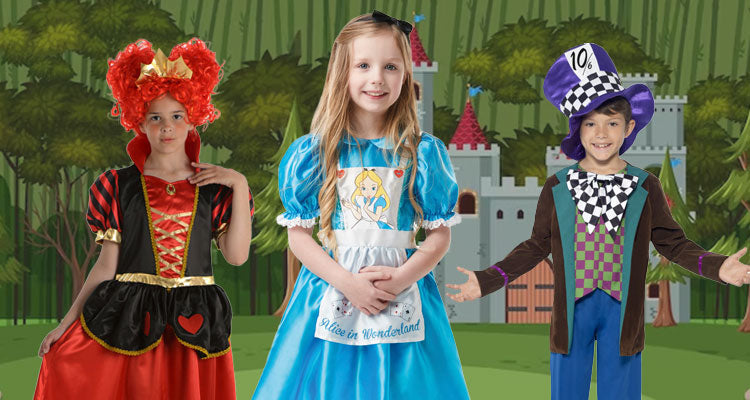 Shop Enchanting Fairy-tale Fancy Dress Costumes
Step into the realm of fairy tales with our collection of affordable fairy-tale fancy dress costumes. Designed for both adults and kids, our diverse range offers a magical experience that allows you to bring your favourite fairy-tale characters to life.
Transform into Timeless Icons: Fairy-tale Characters
Unleash your imagination as you embody iconic fairy-tale characters from stories that have captivated generations. Choose from classic characters like Cinderella, Snow White, and Little Red Riding Hood, or opt for more recent favourites like Elsa and Anna from Frozen. Our costumes transport you into the enchanting worlds of these beloved tales.
Indulge in Enchantment: Women's Fairy-tale Costumes
Indulge in the enchantment of fairy-tale characters with our extensive selection of women's costumes. Transform into a stunning princess, a daring adventurer, or a whimsical character. Whether you dream of being a graceful queen or a fierce warrior, our costumes let you embrace the magic of fairy tales.
Adventure Awaits: Men's Fairy-tale and Fantasy Costumes
Explore a world of whimsy with fairy-tale and fantasy characters designed for men. Step into the shoes of heroic knights, charming princes, or cunning villains. Embrace the spirit of adventure and imagination as you embody characters that have captured the hearts of audiences for generations.
Magical Moments for Kids: Kids' Fairy-tale Costumes
Let your little ones' imaginations run wild with our range of kids' fairy-tale costumes. From courageous princesses to adventurous heroes, our costumes allow children to step into the shoes of their favourite characters. Whether it's for a themed party or imaginative playtime, our costumes ensure magical moments and endless fun.
Complete the Look: Fairy-tale Accessories
Enhance your fairy-tale transformation with our range of accessories that add the perfect finishing touch to your ensemble. From wigs and hats to props and more, our accessories let you fully immerse yourself in the fairy-tale world. Create a captivating and authentic look that's sure to leave a lasting impression.
Make Memories: Fairy-tale-Themed Occasions
Our fairy-tale costumes and accessories are perfect for a range of occasions, from fairy-tale-themed parties to World Book Day and Halloween. Whether you're attending a magical ball or embarking on a heroic quest, our costumes ensure you're dressed for the part. Let your imagination run wild and make memories that will last a lifetime.