Boys Superhero & Villains Costumes
41 products
Superheroes have always been one of the most popular fancy dress ideas for kids dress up, therefore we stock a superb selection of boy's Superhero & Villain costumes. Whether your little one wants to dress up as the Amazing Spider Man, the brave Batman, or the cool Captain America, we are sure our fancy dress sets will unleash their inner superhero!

However, for every great superhero, there's a Villain. If your little one would rather join the dark side, we have a sinister selection of Villain costumes! Your little one could become Batman's nemesis in our Joker costume or journey to a galaxy far, far away as Darth Vader from the popular Star Wars movies. Save the day or cause chaos in our Superhero & Villain costumes, perfect for Comic Book themed fancy dress parties and World Book Day!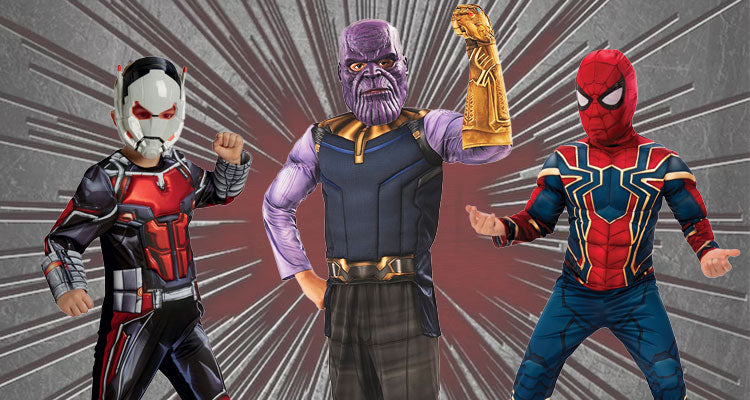 Boys Superhero and Villain Costumes
Embark on an electrifying adventure into the realm of superheroes and villains with our exciting collection of boys' costume attire. Whether your young hero aspires to swing through the bustling cityscape as a Marvel icon, patrol the shadowy streets of Gotham as a DC legend, or wield the cosmic might of Thanos, we proudly offer officially licensed costumes that capture the true essence of these iconic characters.
For the aspiring web-slingers among us, our Spider-Man costumes stand as the ultimate choice. These officially licensed ensembles, meticulously designed with an eye for detail, bring to life the very essence of Peter Parker's heroic alter ego. Slip into the sleek red and blue suit, adorned with the unmistakable web pattern that sets Spider-Man apart from all other superheroes. Prepare to swing into action, much like your friendly neighborhood Spider-Man!
DC Legends
Gotham City eagerly awaits its next protector. Our Batman costumes grant your young caped crusader the opportunity to embody the Dark Knight himself. Crafted from high-quality materials and bearing official licensing, these costumes provide an immersive experience within the world of Bruce Wayne. Whether it's a classic Batman look or one inspired by a specific cinematic adaptation, our collection caters to all preferences.
Cosmic Villainy
For those who gravitate toward the darker side of the Marvel universe, our Thanos costumes present a unique chance to step into the imposing shoes of this cosmic villain. These officially licensed outfits skillfully capture the power and intimidation embodied by Thanos, complete with the iconic Infinity Gauntlet. It's a thrilling opportunity to manifest the might of the Infinity Stones.
A Multiverse of Choices
Our collection knows no bounds. Explore a vast array of additional superhero and villain costumes, encompassing classic icons and contemporary favorites alike. Whether your child dreams of emulating the heroic stature of Superman or is drawn to the enigmatic charm of the Joker, our diverse selection spans a wide spectrum of licenses and characters.
Fueled by meticulous craftsmanship and a steadfast commitment to quality, our boys' superhero and villain costumes are thoughtfully designed to transform playtime, Halloween, or any costume event into an unforgettable adventure. Encourage your child's boundless imagination as they step into the shoes of their favorite hero or villain. Dive headfirst into the captivating worlds of Marvel and DC with costumes that bring these iconic characters to vivid life.