Licensed Thor Fancy Dress Costumes
25 products
Thor is the fourth film in the Marvel Cinematic Universe! Will you prove you are worthy in our amazing Thor fancy dress costumes? We have a great range of Thor costumes for both adults and kids. We even have one for your dog!

Become the master of thunder and lightning and unlock your superhuman powers in our classic Thor fancy dress. Shock everyone at your next comic book themed fancy dress party with your superhuman strength, speed and endurance, we are sure your incredible Thor costume will turn some heads!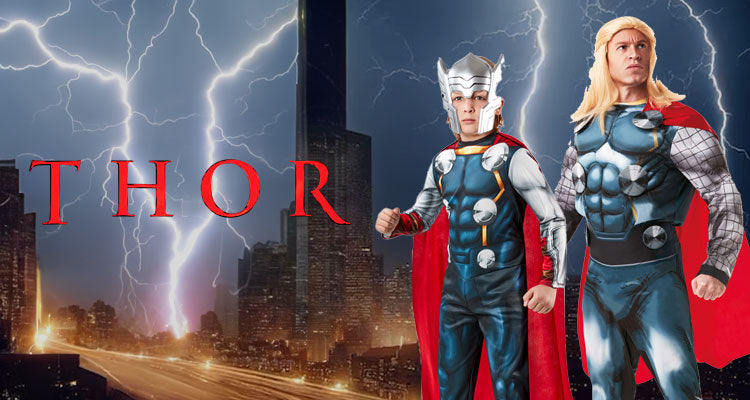 Shop Licensed Thor Costumes for Adults & Kids
Ascend to the realms of Asgard and harness the might of the thunder god with our licensed collection of Thor fancy dress costumes. As the fourth instalment in the Marvel Cinematic Universe, "Thor" introduced audiences to a world of myth and legend, blending Norse mythology with superhero bravado. Now, you have the chance to prove your worthiness and embody the power of one of Marvel's mightiest heroes.

Our range of Thor superhero costumes caters to fans of all ages. Adults can don the iconic armour and red cape, feeling the weight of Mjolnir in their grasp. Children can transform into the young god of thunder, revelling in the tales of heroism and adventure. And let's not forget your loyal four-legged companion, who can join the Asgardian ranks with their very own Thor costume.

Immerse yourself in the character's signature look, complete with the classic winged helmet and the enchanting armour that speaks of ancient battles and heroic deeds. Whether for Halloween, a comic book-themed event, or any occasion that calls for a touch of superhero flair, our Thor costumes are sure to make an electrifying impression.

Don your Thor fancy dress and become the master of thunder and lightning at your next costume party. With every hammer swing and thunderous stride, you'll not only turn heads but also inspire awe with your superhuman strength, speed, and endurance. Embrace the spirit of Thor, and let your heroic presence be as striking as a bolt of lightning in the night sky.