Licensed Harley Quinn Fancy Dress Costumes
25 products
Step into the world of chaos and mischief with our range of officially licensed Harley Quinn Fancy Dress Costumes. From her iconic red and black jester outfit to the modern cinematic adaptations, we offer a variety of styles for fans of all ages. Whether you're planning to crash a party or join the ranks of the Suicide Squad for a night, our Harley Quinn costumes provide the perfect blend of authenticity and flair. Made with high-quality materials, these outfits capture the essence of the beloved antiheroine, ensuring you make a striking impression at any costume event. Shop now and embody the unpredictable spirit of Harley Quinn!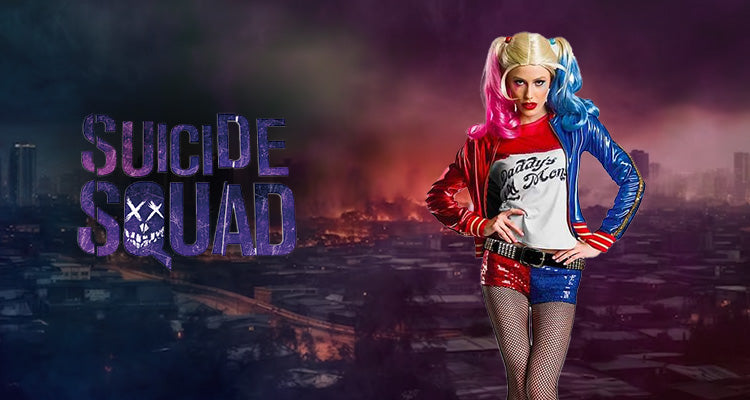 Shop Licensed Harley Quinn Costumes for Adults & Kids
Dive into the captivating world of Gotham's most notorious antiheroine with our officially licensed Harley Quinn Fancy Dress Costumes. Embody the audacious spirit of Dr. Harleen Quinzel, who transformed from a brilliant psychiatrist into the unpredictable and endearing Harley Quinn. Her intricate relationship with the Joker and her transformation into a complex character in her own right has captivated audiences, making her a standout in the DC Universe.

Our collection captures the essence of Harley's evolution, from her classic jester costume to the modern looks seen in recent films like "Suicide Squad" and "Birds of Prey." Each costume is meticulously crafted to reflect the character's bold fashion sense, complete with the iconic red and black colour scheme and the occasional touch of caution-tape yellow, ensuring that you'll stand out in any crowd.

Not forgetting the little anarchists, our kids' range allows young fans to channel their inner Harley Quinn while ensuring comfort and flexibility for all their mischievous escapades. These costumes are not only perfect for Halloween but also for comic cons, movie-themed parties, or simply for those days when your little ones feel extra adventurous.

Shop our range of licensed Harley Quinn costumes and embrace the thrill of stepping into the shoes of Gotham's beloved Queen of Chaos. Whether for adults or kids, these costumes promise an unforgettable transformation into the world of Harley Quinn and the Suicide Squad.