Licensed Iron Man Fancy Dress Costumes
20 products
Did you know Iron Man is the first film in the Marvel Cinematic Universe? He made his first appearance in Tales of Suspense in 1936. He later received his own title, Iron Man #1 in 1968.

Do you have what it takes to be a hero? If so, Iron Man is the perfect choice for your fancy dress. Soar sky-high in our Iron Man costumes and feel the powers your Marvel fancy dress holds!

Our impressive range of adults' and kids Iron Man costumes, you will be ready for anything. Get ready to fly high, and don't forget when dressed as Iron Man, you can shoot rays from the palms of your hands!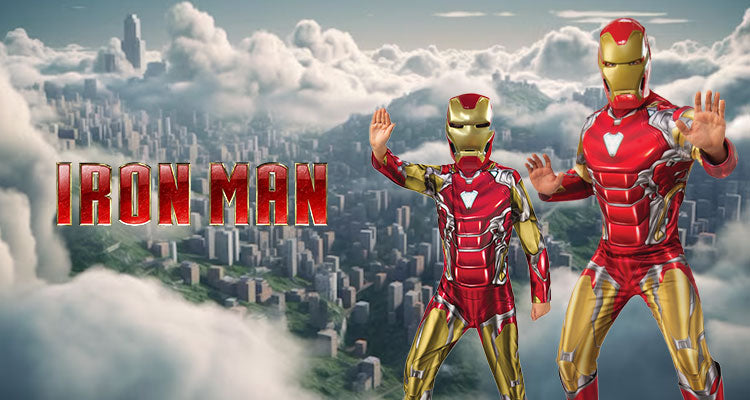 Shop Licensed Iron Man Costumes for Adults & Kids
Embark on a journey into the heart of the Marvel Cinematic Universe with our stunning range of Iron Man costumes. As the iconic character that launched a cinematic saga, Iron Man first soared into the public consciousness in "Tales of Suspense" back in 1963, not 1936. His immense popularity eventually led to his own title, "Iron Man #1," in 1968, cementing his status as one of Marvel's most beloved superheroes.

Fast forward to 2008, and Iron Man blasted onto the big screen, marking the beginning of an epic cinematic journey. Portrayed by Robert Downey Jr., Tony Stark's alter-ego became synonymous with innovation, bravery, and a touch of flamboyance, characteristics that resonate with fans worldwide.

Our collection of Iron Man costumes allows you to channel the genius, billionaire, playboy, and philanthropist. Whether you're an adult looking to showcase your inner hero or a child eager to explore the skies, our range caters to all. Crafted with attention to detail, these costumes replicate the iconic suit with its red and gold armour, allowing you to feel the power of Iron Man's technologically advanced suit.

As you don the suit, remember that Iron Man represents more than just technological prowess; he embodies the spirit of heroism and self-sacrifice. So, prepare to soar sky-high at your next fancy dress event and feel the power coursing through your Marvel attire. And while you might not be able to shoot actual rays from your palms in one of our Iron Man costumes, you'll certainly feel like you can conquer anything!