Costume Jewellery
28 products
Adorn yourself with beautiful jewelry and get ready for a day full of sparkle, elegance, and stylish fun! Imagine yourself wearing glittering necklaces that catch the light, charming bracelets that jingle with every movement, or even costume jewelry to complete your princess, pirate, or 80s look. Jewelry is perfect for adding a special touch to your outfit for parties, enhancing your daily wardrobe, or just playing dress-up at home. It's great for expressing your style, feeling glamorous, and enjoying the beauty and charm that jewelry brings to any look. So, pick your favorite pieces of jewelry, whether they're shiny, colorful, or part of a fun costume, and get ready for a day of feeling fabulous, turning heads, and sparkling in style!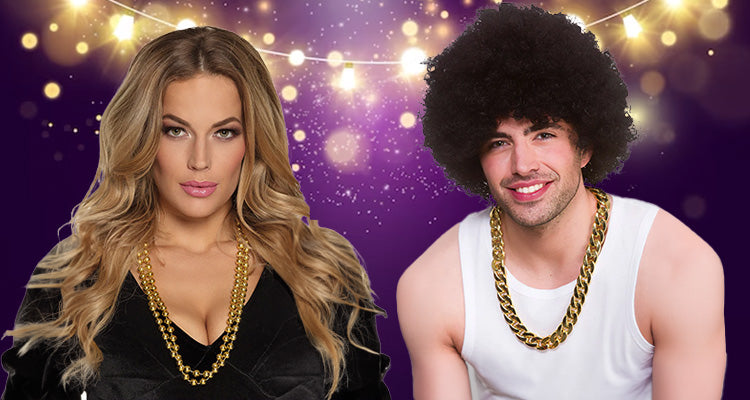 Add some bling to your fancy dress costume with our fantastic selection of fancy dress Jewellery. Here at mega fancy dress, we understand that accessorizing your costume is an important part, so we've made sure below we've stocked the most fabulous, creative and unique pieces of jewellery to suit every theme and budget.
We have Jewellery perfect for making sure you don't pity the fool in a Mr T costume with our Gold Necklace and Chains. We also have a holy selection of necklaces suitable for Vicars and Nuns, like our Cross Necklace, which can be found below at the most competitive prices, or if you're thinking of taking a trip back to the 80s why not don our Fluorescent Bead Necklace, for a totally out of this world transformation.
So no matter what your theme, we're sure we've got the bling to suit your costume. From Indian Necklaces to Gold Snake Bracelets and Pimp Dollar Sign Rings to Betty Boop Earrings, we've got everything to suit your fancy, at an affordable price with a fast despatch and delivery. So what are you waiting for? Get accessorizing with our magnificent selection of fancy dress Jewellery!