Licensed Marvel Fancy Dress Costumes
131 products
Marvel costumes, inspired by the iconic characters from the Marvel Universe, have become a staple in the world of cosplay and Halloween celebrations.

Our licensed Disney Marvel costumes give fans of all ages a chance to embrace the opportunity to embody their favourite characters. From the patriotic hues of Captain America's suit to the sleek, technologically advanced Black Panther outfit, these costumes have become iconic symbols within pop culture, instantly recognizable and deeply associated with the characters' identities and stories.

We're proud to offer a wide range of licensed designs, offering a vibrant choice for comic book fans to dress up as their hero (or villain) in comfort and style.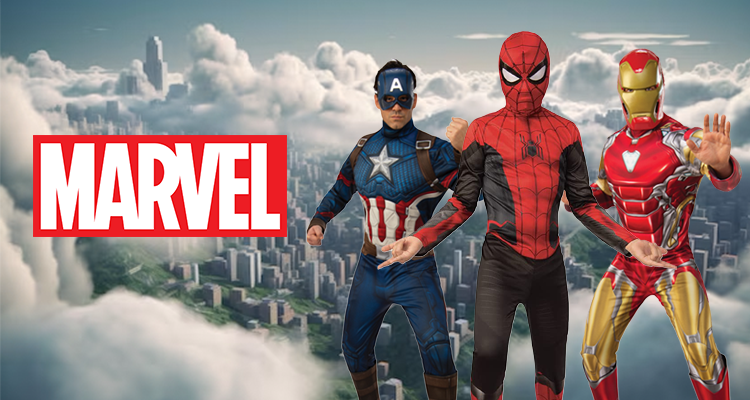 Shop Licensed Marvel Character Costumes

Our licensed Marvel costumes cater to a diverse audience, including die-hard comic book enthusiasts and casual fans alike, ensuring that everyone finds the perfect fit to transform into their cherished Marvel character. The meticulous attention to detail in these costumes reflects the distinctive attributes of each superhero, from the intricate webbing of Spider-Man's suit to the godly armour of Thor. We are constantly updating our range with the latest designs from recent Marvel blockbusters, keeping your cosplay experience up-to-date and exciting.

Crafted from high-quality materials, they ensure durability and ease of movement, allowing you to enjoy the festivities without any discomfort. Whether it's for trick-or-treating, a themed party, or a cosplay event, our Marvel costumes are designed to impress and provide an authentic superhero experience.

In conclusion, our licensed Disney Marvel costumes are a tribute to the enduring legacy of the Marvel Universe. They allow fans to not only dress like their heroes but also to feel the power that comes with these legendary characters. Embrace your inner superhero and make a statement at your next cosplay event with our extensive range of Marvel costumes.