Party Inflatables
37 products
Pump up the fun at your parties with cool inflatable toys, and get ready for a day full of playful adventures and laughs! Imagine battling it out with inflatable guns, perfect for a safe and silly shootout, swinging around a caveman bat for prehistoric play, or even dueling with inflatable lightsabers like in your favorite space adventures. Inflatable toys like guns, caveman bats, and lightsabers are perfect for adding excitement to themed parties, outdoor fun, or just having a blast at home. They're great for sparking imaginative play, providing safe and soft props for action-packed games, and ensuring everyone has a hilariously good time. So, grab your inflatable toys, whether they're for mock battles, prehistoric adventures, or intergalactic duels, and get ready for a day of bouncy, buoyant, and booming fun!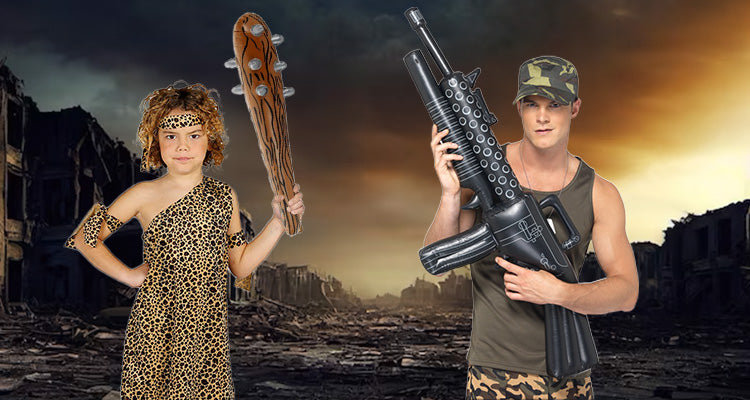 Shop fun party inflatables
At your next party, have a whale of a time with our fantastic collection of fun fancy dress inflatables! Elevate your costume game with our unique and exciting inflatables, perfect for jazzing up any outfit with a little creativity. 
Our Inflatable Shield & Sword is a must-have accessory for the brave knights and warriors, ready to conquer any party battle. Bring the golf course to the party with our hilarious Inflatable Golf Club, guaranteed to swing laughs all around.
Heading to the beach or poolside bash? Don't forget the Inflatable Life Saver Float for safety and style, or stand out in the crowd with our Inflatable Banana or Inflatable Shell, ideal for a tropical-themed party.
Embrace the prehistoric era with our Inflatable Caveman Club and Inflatable T-Rex Dinosaur Adults Costume, sure to make you the life of any Jurassic-themed party.
And let's not forget our quirky Inflatable Ghetto Blaster, Inflatable Ball and Chain, and Inflatable Pumpkin, perfect for themed events and Halloween parties.
With a wide variety of inflatables to choose from, including Oktoberfest Inflatable Stein, Inflatable Light Stick, and Inflatable Christmas Roast Adults Turkey, you'll never run out of fun ideas to make your costume stand out.
Hurry and grab your favourite inflatables now, and be sure everyone is talking about your next fancy dress appearance.