Delve into a world of imagination and play with kids' wigs, the perfect accessory for bringing their favorite characters to life. Whether it's embodying the magical locks of a fairy-tale princess, sporting the adventurous style of a superhero, mimicking the quirky hair of a beloved cartoon character, or stepping into the shoes of a historical figure, there's a wig for every young dreamer's fantasy. Ideal for dress-up games, school plays, or themed birthday parties, these wigs allow children to fully immerse themselves in their imaginative worlds. Kids' wigs are more than just costume accessories; they're a key to unlocking endless adventures and creativity, helping little ones to express themselves and embody their most cherished characters with joy and excitement.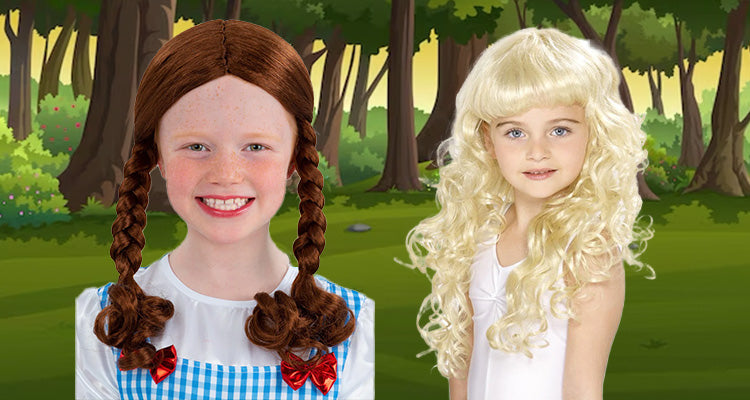 Kids Wigs
Step into the playful and imaginative world of kids' wigs, where each style brings to life favorite characters and stories for little ones. These wigs aren't just hairpieces; they're a key part of dressing up and immersing in the world of make-believe, perfect for costume parties, playtime, and performances.
Frozen-themed wigs, inspired by the beloved Disney movie, are a hit among kids who adore the characters Elsa and Anna. Elsa's signature icy blonde braid and Anna's reddish-brown locks with a white streak are instantly recognizable. These wigs allow young fans to embody their favorite princesses, adding magic and excitement to their playtime adventures.
Wednesday Addams wigs capture the essence of the iconic character from The Addams Family. The wig's straight, long black hair with a center part is perfect for girls wanting to portray Wednesday's unique blend of mystery and charm. It's ideal for Halloween costumes, themed parties, or any occasion that calls for a touch of the Addams family's quirky style.
Miraculous-themed wigs, based on the popular animated series "Miraculous: Tales of Ladybug & Cat Noir," are another favorite. With Ladybug's blue-black hair with red highlights, these wigs help bring these beloved characters to life. They're perfect for kids who want to recreate the adventures of their favorite superheroes during playtime or at costume events.
Kids' wigs are also valuable for school plays and drama classes, helping children get into character and enhancing their performances. They provide a fun and easy way for kids to experiment with different looks and embrace their creative side.
In summary, kids' wigs in styles like Frozen, Wednesday Addams, and Miraculous allow young ones to step into the shoes of their favorite characters. They offer a playful and imaginative way for kids to explore different personas, enhancing their dress-up experiences and bringing joy to various occasions and performances.