Licensed Black Panther Fancy Dress Costumes
14 products
Telling the story of how T'Challa is crowned king of Wakanda, Black Panther is a recent film based on a comic book written by Marvel Comics. It is the 18th film in the Marvel Cinematic Universe.

Will you unleash Black Panther's superpowers of speed and strength when you are dressed up as him? Step into the Black Panther's world, Wakanda, at your next comic book fancy dress party, and become part of the iconic Avengers in your Black Panther battle suit!

We are sure you will feel superhuman powers when you are wearing one of our Black Panther fancy dress costumes!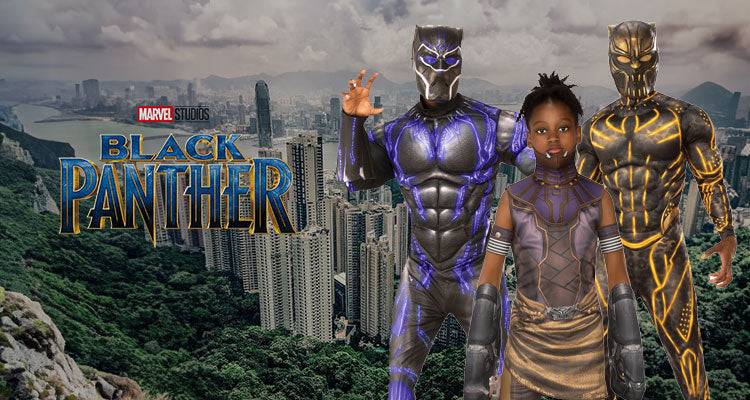 Shop Black Panther Costumes for Adults and Kids
Dive into the world of Wakanda with our exclusive range of Black Panther costumes, where each piece is officially licensed, ensuring you get the authentic superhero experience. Whether you're a fan of the groundbreaking film or the rich comic book history, our collection caters to all styles and sizes, allowing you to embody the essence of T'Challa, the noble king and protector of Wakanda.

Our selection includes a variety of styles, from the sleek, Vibranium-woven suit seen in the Marvel Cinematic Universe to the classic comic book designs that long-time fans will instantly recognize. Children and adults alike can find their perfect fit, with our full-body suits that highlight the muscular silhouette of the Black Panther.

Not only do these superhero fancy dress outfits capture the visual splendour of the Black Panther, but they also embrace the cultural significance and storytelling depth that the character represents. Donning a Black Panther costume is not just about attending a party; it's about stepping into a narrative that celebrates heritage, honour, and the unyielding spirit of a hero who fights for justice.

So, whether you're attending a comic con, a Halloween bash, or simply hosting a Marvel-themed event, our Black Panther costumes are your gateway to experiencing the majesty of Wakanda. Embrace the legacy of T'Challa and let the spirit of the Black Panther empower you at your next gathering!