Licenced Scooby Doo Fancy Dress Costumes
5 products
Scooby Dooby Doo!

The beloved cartoon 'Scooby Doo' has a popularity that knows no bounds, and for the past 40 years, Scooby and the other members of Mystery inc have appeared in cartoons, comic books and even a series of live-action films. Each character is instantly recognisable and is understandably hugely popular choice for fancy dress costumes.

Our range of Scooby Doo outfits and sets are suitable for men, ladies, boys and girls and include all of your favourite Scooby Doo characters so anyone can solve crime in style. So whether you fancy dressing yourself as the lovable hound himself or as another investigator from Mystery inc gang, we have them all at the best available prices online!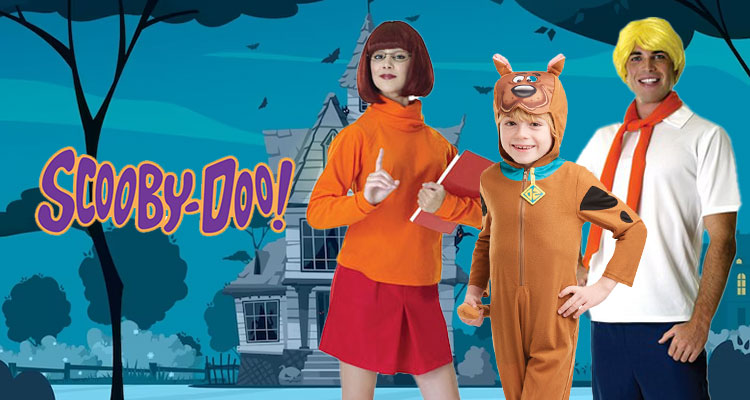 Shop Licensed Scooby Doo Costumes
Embark on a journey of mystery and nostalgia with our licensed collection of Scooby Doo fancy dress costumes. For over four decades, Scooby and the gang from Mystery Inc. have captured the hearts of audiences with their thrilling adventures and endearing personalities. From animated series to comic books and live-action films, these characters have become cultural icons, making them a timeless choice for fancy dress enthusiasts.

Our Scooby Doo costume range spans the entire crew, allowing you to step into the shoes of any member of the Mystery Inc. team. Transform into the snack-loving, yet surprisingly courageous, Great Dane with our Scooby Doo outfits, complete with his characteristic brown fur and endearing expression. Or, if you're feeling particularly brainy, why not don the orange ascot and become the smart and resourceful leader, Fred?

Ladies and girls can channel their inner Daphne or Velma, each costume reflecting the characters' distinct styles, from Daphne's purple dress and green scarf to Velma's iconic orange turtleneck and glasses. And for those who prefer a more laid-back look, our Shaggy costumes are the perfect embodiment of the lovable, yet perpetually hungry, sidekick.

Not only are these costumes ideal for Halloween or cartoon-themed parties, but they also offer a fun and engaging way to bring the family together, with options available for all ages. Plus, with our competitive prices, you can dress up as your favourite Scooby Doo character without breaking the bank.

So, gather your friends or family, hop into the Mystery Machine, and get ready to solve some mysteries in style with our Scooby Doo fancy dress costumes. Who knows? You might just unmask a villain or two along the way!