Captain America Costumes
15 products
Take a trip back to Washington DC back during World War 2 dressed up as the popular Superhero, Captain America!

Our Captain America fancy dress costumes are great for kids and adults, you can even get your dog involved in your adventures with our pet costume!

We stock a superb range of super-cool licensed Captain America costumes in his classic American flag colours!

You might reveal some of your own superpowers when you wear your Captain America fancy dress to your next Comic Book or Marvel-themed fancy dress party.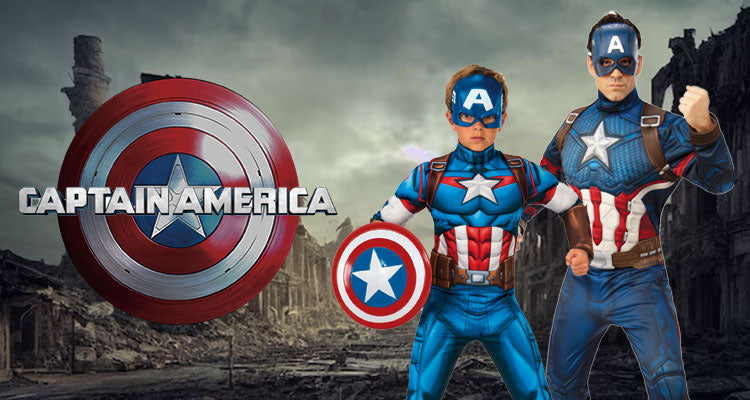 Shop Licensed Captain America Costumes for Adults & Kids
Transport yourself to the battlefields of World War II and stand shoulder to shoulder with one of Marvel's most patriotic heroes with our Captain America fancy dress costumes. Don the iconic star-spangled suit of Steve Rogers, a symbol of courage and freedom, and become the embodiment of the beloved superhero.

Our collection of Captain America costumes caters to fans of all ages. Adults can revel in the nostalgia and valour of the character, while kids can live out their superhero dreams, embodying the strength and integrity of Captain America. Each costume is meticulously designed to reflect the classic American flag colours, complete with the shield that has become synonymous with the hero's legacy.

Not only do we cater to the two-legged heroes, but we also offer a special way to involve your four-legged sidekicks in the adventure with our pet costumes. Imagine the delight as your faithful companion becomes an honorary member of the Avengers, standing proudly by your side.

Our officially licensed Captain America costumes are perfect for Comic Book or Marvel-themed fancy dress parties, Halloween, or any occasion that calls for a dash of heroism. The high-quality design ensures you not only look the part but feel the part, too. Who knows? Once you don your Captain America attire, you might just discover some superpowers of your own.