Licensed Wonder Woman Fancy Dress Costumes
20 products
Wonder Woman is a superhero created by DC Comics in 1941. Her popularity soared after her 2017 film, telling the story of how she sets out to stop World War I.

Fly way back in time to Themyscira in your Wonder Woman costume. Can you stop World War I in time when you are dressed up as this Superhero? We have a superb selection of officially licensed Wonder Woman costumes in her classic blue and red colours, perfect for adults and kids fancy dress!

Take off to your next Comic Book themed fancy dress party in our wonderful Wonder Woman Costumes, our ladies and girls superhero costumes are also a great choice for World Book Day and Halloween!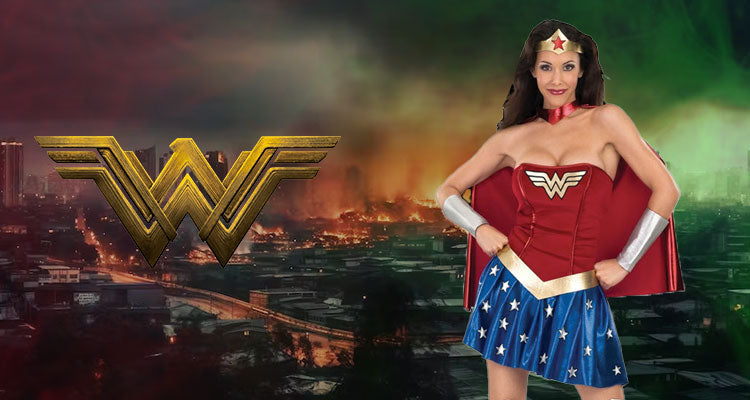 Shop Licensed Wonder Woman Costumes for Adults & Kids
Step into the boots of the Amazonian princess and channel the spirit of justice, strength, and compassion with our officially licensed Wonder Woman costumes. Created by DC Comics in 1941, Wonder Woman has become an enduring symbol of female empowerment and heroism, her popularity reaching new heights with the release of her 2017 film, which recounts her valiant efforts to bring an end to World War I.

Our collection captures the essence of Wonder Woman's iconic look, featuring her classic blue and red colours adorned with the symbolic golden eagle and stars. These costumes are not merely outfits; they are a tribute to the character's legacy and an invitation to embrace the warrior within.

Available for both adults and kids, our Wonder Woman costumes are perfect for those seeking to embody the superhero for fancy dress events, World Book Day, or Halloween. The attention to detail ensures that you'll feel as if you've stepped out of Themyscira, ready to wield the Lasso of Truth and defend justice.

Whether you're soaring into a comic-themed party or standing tall among the crowds on World Book Day, our Wonder Woman costumes offer a powerful way to showcase your heroism. So, don your tiara, fasten your cuffs, and prepare to make a heroic entrance at any costume party. As Wonder Woman herself, you'll not only be dressed as a superhero; you'll inspire others with the timeless values she represents.