Fancy Dress Glasses
33 products
Put on cool glasses and get ready for a day full of fun looks and playful style! Imagine yourself wearing colorful sunglasses for a beach day adventure, funky glasses to match a quirky costume, or even superhero-themed eyewear to see the world like your favorite character. Glasses are perfect for spicing up your outfit for themed parties, adding a fun twist to your everyday wear, or just playing dress-up at home. They're great for changing your look, expressing your personality, and adding a touch of whimsy or coolness to your style. So, pick your favorite pair of glasses, whether they're bright and bold, sleek and stylish, or part of a fun costume, and get ready for a day of seeing the world through a new lens and having a blast with your fashionable accessory!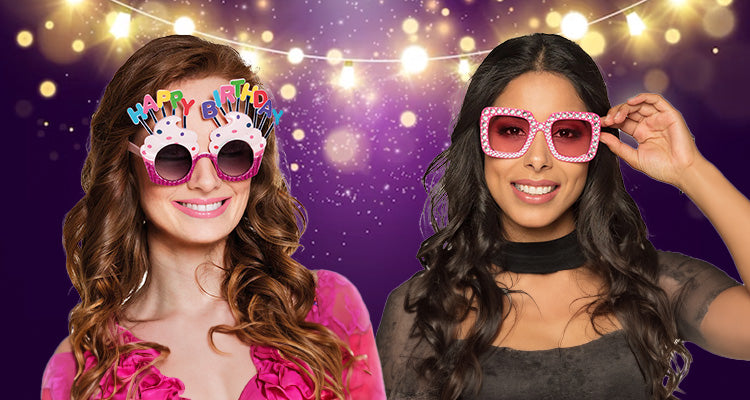 Frame those beautiful eyes of yours with our fantastic selection of Fancy Dress Sunglasses. We stock some of the most outrageous and colourful eyewear choices to get you looking like some of the most iconic characters in history.

We stock retro aviators perfect for any Top Gun, Elvis or Military costume, eccentric specs perfect for Lady Gaga or Hippy costumes, as well as oversized nerd glasses perfect for wearing to a Back to School-themed fancy dress party.
We have a huge range of glasses to suit every style and budget, ensuring that they are all at the best and most competitive prices online. 
ith the bright and colourful to the wild and wacky, splashed out over the pages below are some of the most unique and best priced sunglasses youll find online. Our all time favourites are by far our pineapple glasses which make an exotic addition to any Hawaiian costume, as well as our Schoolboy Geek Glasses perfect for adding to a Harry Potter outfit before you set off on your quest to take down he who shall not be named!
So whatever your costume, be it a national dress, celebrity or cartoon, we stock everything below to get you looking superb just in time for your next fancy dress party!