Tights & Stockings Costumes Accessories
92 products
Slip into colorful tights and stockings and get ready for a day full of style, comfort, and playful fashion! Imagine yourself in bright, patterned tights that add a pop of fun to any outfit, or elegant stockings that bring a touch of class and sophistication to your look. These tights and stockings are perfect for complementing costumes, enhancing your everyday wardrobe, or just adding some flair to your style. They're great for expressing your personality, staying cozy while looking chic, and enjoying the versatility and fashion statement they bring. So, pick your favorite tights or stockings, whether they're bold, fishnet, striped, or polka-dotted, and get ready for a day of feeling fashionable, comfortable, and fabulously dressed!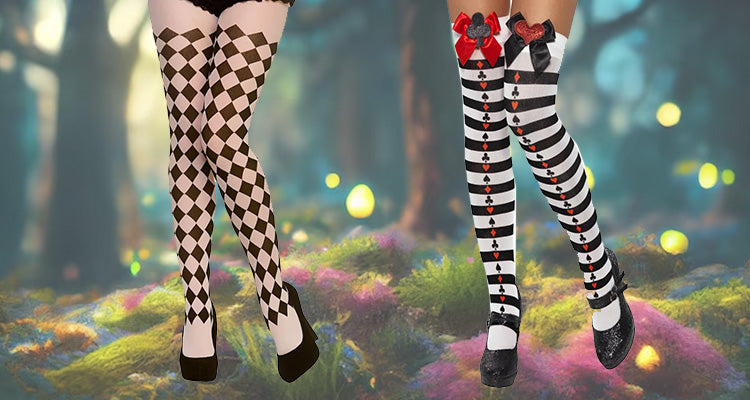 Welcome to our fantastic collection of Hosiery & Stockings. From the sexy to the sinister, we have everything perfect for adding the finishing touches to your fancy dress costume. Our huge range of themed hosiery and stockings are perfect for completing an array of outfits.
For Halloween themes, we have two hugely popular choices, our White Blood Splattered Tights, which are excellent for adding to a Nurses costume and our Black and White Striped Stockings, which make a great addition when added to our Licensed Beetlejuice outfit. We also stock themed hosiery like our Wizard of Oz Dorothy Thigh Highs, which has proved to be extremely popular near World Book Day.
Our Adults men's Green Tights are also available, perfect for adding to a Stag Do costume or Hulk outfit! So make sure you take browse through our fabulous selection of fancy dress Hosiery & Stockings and get your pins looking spectacular regardless of the theme.