Cowboy & Indians Costumes
134 products
Jump into a world of wild west adventures with cowboy and Indian costumes, perfect for days filled with action and imagination! Picture yourself as a cowboy with a cool hat and boots, ready to ride horses and explore, or as an Indian with colorful feathers and patterns, living in harmony with nature. These costumes are great for school plays, themed parties, or just a day of exciting play at home. Cowboy and Indian costumes let you step into the world of the old west, where every day is an adventure with cowboys, Indians, and the great outdoors. So, put on your cowboy hat or Indian headdress and get ready for a day full of adventure and fun!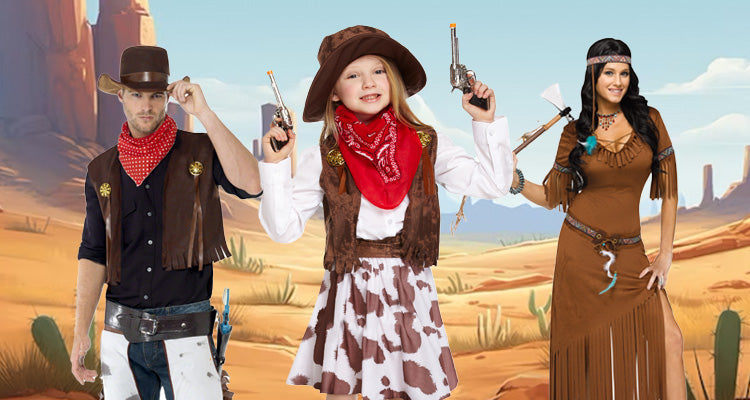 Step into the Wild West: Cowboys and Indians Fancy Dress Extravaganza!
Embrace the Frontier: Cowboys and Indians Costumes for All Ages
Get ready to embark on a journey through time with our Cowboys and Indians fancy dress collection. This iconic theme has captured the hearts of generations, making it a beloved choice for both young and old. At Mega Fancy Dress, we have the stock that will have you shouting "yeehaw!" in excitement.
Transform into Legends: Kid's Costumes and Iconic Figures
Ignite your imagination by becoming a part of the enchanting world of Disney's Toy Story. Dress up as the legendary Woody or the spirited Jessie with our meticulously designed kid's costumes that capture the essence of these beloved characters. For a touch of magic, stun the crowd in our Pocahontas fancy dress. Our collection spans from stylish cowgirls to Native Indian-inspired ensembles, allowing you to embody your favourite icons.
Unveil the Charm of the Wild West: Men's Cowboys and Indians Costumes
Men, it's your turn to step into the spotlight with our Men's Cowboys and Indians Costumes. Channel the rugged allure of the Wild West with our meticulously crafted ensembles. From dashing cowboys to fearless Native Indians, our costumes allow you to embrace the spirit of adventure at any event.
Evoke the Spirit of the Frontier: Women's Cowgirl and Indians Costumes
Ladies, bring a touch of Western flair to your next event with our Women's Cowgirl and Indians Costumes. Embrace the power and grace of cowgirls or the mystique of Native Indian-inspired attire. Our collection offers a range of options that will have you capturing the essence of the Wild West in style.
Complete the Look: Cowboy Hats and Authentic Accessories
No Cowboy or Cowgirl outfit is complete without the classic brown Cowboy hat. Elevate your attire with this essential accessory that adds an authentic touch to your ensemble. Let your inner cowboy or cowgirl shine as you wear this emblem of the Wild West with pride.
Step into Adventure: Unleash Your Inner Cowboy or Indian
Our intricately crafted Cowboy and Indian costumes transport you to the rugged landscapes of the Wild West. Imagine strolling down dusty trails, fully immersed in the spirit of adventure at your upcoming fancy-dress party. Whether you're aiming for rugged charm or embodying the mystique of the Wild West, our collection offers the perfect outfit for every Wild West enthusiast.
Join the Frontier Festivities: Dress Up and Create Memories!
Relive the excitement of the Wild West with our Cowboys and Indians fancy dress collection. From kid's costumes that pay homage to animated classics to iconic figures like Woody and Jessie, our range caters to all your fancy-dress aspirations. Immerse yourself in the heart of frontier fun and make your next event a truly unforgettable one!