Novelty & Humour Costumes
116 products
Dress up in funny novelty and humor costumes and get ready for a day filled with laughter and fun! Imagine wearing a costume that looks like a giant banana, a funny superhero with a silly cape, or even a walking piece of pizza. These costumes are perfect for parties, school events, or just for a super fun time at home. Novelty and humor costumes let you be the silliest, most hilarious version of yourself, making everyone around you giggle and smile. They're not just costumes; they're your ticket to becoming the funniest person in the room. So, put on your wackiest outfit and get ready for a day full of jokes, laughs, and super silly fun!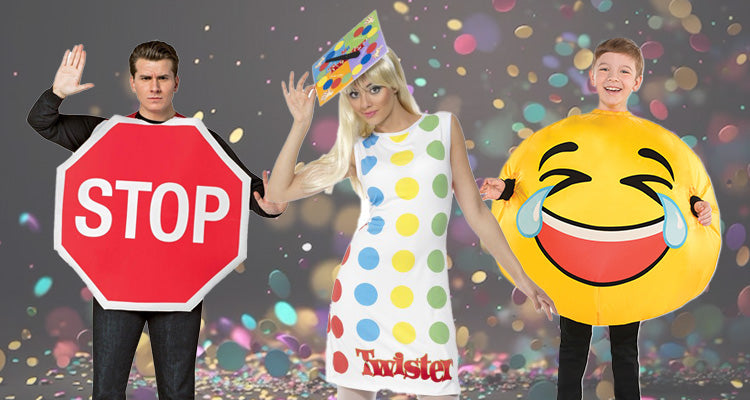 Shop Hilarious Novelty & Humour Fancy Dress Costumes
Get ready to bring laughter and entertainment to your next fancy dress party with our collection of Novelty & Humour costumes. Whether you're a fan of witty puns, classic gags, or simply want to tickle everyone's funny bone, we have the perfect outfits to ensure a memorable and hilarious time.
For the Light-hearted Ladies: Women's Novelty Costumes
Ladies, it's your chance to shine in our array of women's Novelty & Humour costumes. Whether you're looking to dress up as a giant piece of sushi or transform into a quirky character from your favourite comedy show, our costumes offer a delightful twist on traditional fancy dress. From food and drink ensembles to clever and creative characters, you'll be the life of the party.
A Laugh for the Gents: Men's Novelty Costumes
Guys, step into the spotlight with our men's Novelty & Humour costumes that are designed to make everyone chuckle. From larger-than-life food items to famous movie parodies, our outfits let you showcase your playful side. Turn heads and evoke laughter as you show up as a hilarious mascot or embrace the absurdity of iconic figures. Your entrance will surely be a showstopper.
Endless Amusement for Kids
Let the little ones join in on the fun with our kids' Novelty & Humour costumes. Whether they want to become a walking, talking emoji or dress up as their favourite animal in a comedic twist, our costumes ensure endless amusement and giggles. From energetic cheerleaders to quirky characters from popular media, their costumes will light up the party with joy.
Unleash the Laughter: Second Skin & Colourful Costumes
Take your humour to the next level with our range of second skin and colourful Novelty costumes. These outfits wrap you in vibrant shades or transform you into a head-to-toe comedic masterpiece. Perfect for making a bold statement or unleashing your inner prankster, these costumes guarantee non-stop laughter and attention.
Get Ready to LOL
No matter your sense of humour, our Novelty & Humour costumes are here to make you the star of the show. Whether you're bringing classic slapstick comedy or modern pop culture references to the party, our outfits will have everyone roaring with laughter. So, pick your favourite hilarious ensemble, step into the spotlight, and get ready to share the joy and amusement with everyone around you.