Ghost & Ghoul Costumes
81 products
Release the spirits with our amazing collection of Ghost & Ghoul costumes. Whether you're a sunken pirate, a trapped soul or a ghost bride Mega Fancy Dress has the costumes to give you a bump in the night. A classic at any Halloween party float among the living with our selection of Ghost & Ghoul Costumes. We've got Ghastly Ghosts, Pirate Ghosts, Ghost Brides and even Ghouls so whatever entity you want to be our Ghost & Ghoul fancy dress will have you sorted in no time!

Make sure to browse our Halloween Accessories to complete your Ghost or Ghoul fancy dress, add some ghostly white make up or our white and grey wigs to your fancy dress!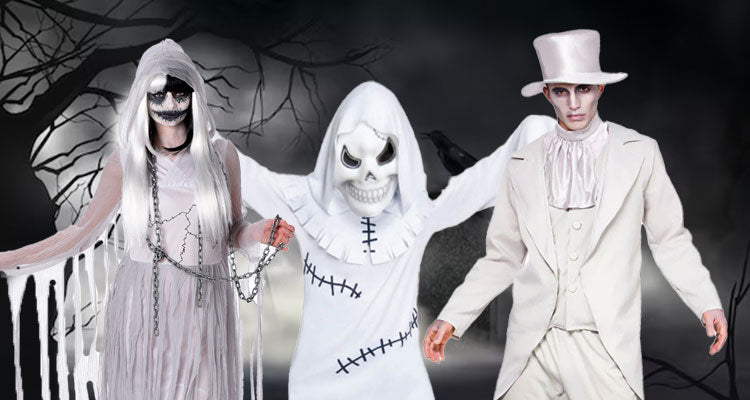 Haunt the Shadows with Men's Ghost and Ghoul Costumes
Prepare to chill the spine and send shivers down spines with our eerie ghost and ghoul costumes designed for men. Whether you're gearing up for a Halloween night of haunting, a spooky costume party, or simply seeking to embody the otherworldly essence of the supernatural, our outfits capture the essence of ghostly horror. Imagine yourself as a spectral and ethereal ghost or a malevolent and sinister ghoul.
Embrace the Eerie: Channel the Realm Beyond
Ghosts and ghouls have long been iconic figures in the world of the supernatural, and our costumes allow you to fully embrace the chilling allure of these apparitions. Whether you're donning a flowing and tattered ghostly robe with a ghostly white face, or you prefer the twisted and menacing look of a ghoul with decaying flesh and hollow eyes, our outfits capture the essence of the paranormal and the unknown.
Complete Your Otherworldly Look: Accessories for the Beyond
No ghost or ghoul costume is complete without the right accessories. Enhance your supernatural ensemble with our matching accessories, ensuring you're ready to haunt the night. Think about adding eerie makeup for a ghostly visage, gory prosthetic wounds for added horror, or ethereal props like chains and lanterns for an authentic touch. These details add an extra layer of authenticity to your look, making you the ultimate embodiment of ghostly and ghoulish terror.
Enter the Realm of the Unseen: Relive the Thrills of the Unknown
Ghosts and ghouls have fascinated and frightened people for centuries, and our costumes allow you to step into this mysterious and paranormal world. Whether you're a fan of classic ghostly tales or you're drawn to the sinister and malevolent nature of ghouls, our outfits capture the iconic styles and the spirit of the supernatural. Prepare to haunt the night as an entity from beyond, ready to make hearts race and breaths quicken with fear.