Dive into a world of fun and flair with long wigs, the ultimate costume game-changer! Imagine swishing around with long, flowing locks that can turn you into anyone, from a fairy-tale princess with shiny, cascading curls to a rock star with wild, vibrant tresses, or even a mysterious character from your favorite story with sleek, dramatic strands. Perfect for dress-up parties, Halloween spooks, or just playing around, these wigs are like magic wands for style. Long wigs aren't just hairpieces; they're your ticket to a fabulous transformation, making you the star of any show with a swish of your new, fabulous hair!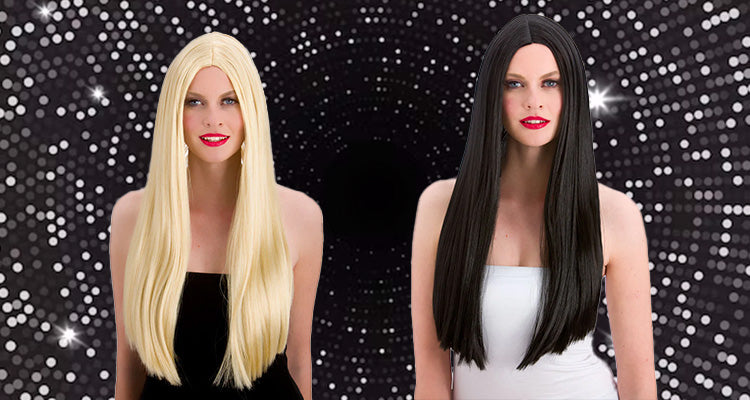 Long Wigs
Embark on the alluring journey of long wigs, a versatile and stylish choice for those looking to transform their appearance. Long wigs, whether curly, wavy, or straight, come in a variety of colors, each offering its unique charm and appeal.
Long straight wigs are available in a myriad of colors, providing options for every preference and occasion. Black long straight wigs exude sophistication and mystery, perfect for both dramatic and elegant looks. Blonde long straight wigs, ranging from platinum to honey, offer a bright and eye-catching style, ideal for those wanting to stand out or experiment with lighter hair shades. Brown long straight wigs provide a natural and warm appearance, suitable for a more understated yet polished look. For a more adventurous style, long straight wigs in vivid colors like red, blue, or even pastel hues allow for creative and bold expressions of individuality.
Long curly wigs add volume and texture, creating looks that range from romantically soft to boldly voluminous. These wigs can be found in the same diverse color palette, allowing for customization of style based on personal preference. Curls in deep blacks or browns can give a look of classic beauty, while lighter shades like blonde or unconventional colors add playfulness and flair.
Wavy long wigs strike a balance between the sleekness of straight hair and the volume of curls. They too come in various colors, providing an effortlessly chic look that suits a wide range of styles. Whether it's a natural-looking wave in brown or black, or a more pronounced wave in a brighter color, these wigs offer versatility and elegance.
In essence, long wigs in styles like straight, curly, and wavy, available in a range of colors, provide endless possibilities for transforming one's appearance. They cater to diverse tastes and occasions, allowing for exploration and experimentation with different looks, from the natural and understated to the bold and imaginative.