Witch & Wizard Costumes
128 products
Cast spells this Halloween dressed up in our Witch & Wizard costumes, great for magical Halloween fancy dress!

We have Witch & Wizard costumes for adults and kids of all ages, including super cute toddler Witch & Wizard fancy dress, the famous Wicked Witch from Wizard of Oz costumes and our Deluxe Emerald Witch fancy dress! Not to mention our colourful array of Witch fancy dress, from Spider Witches to super scary Zombie Witch costumes! If a Witch costume isn't what you are looking for we why not try our Harry Potter costumes, and transform yourself into the most famous Wizard around!

Don't forget to accessorise your Witch or Wizard costume, every great Witch or Wizard needs a wand! We also have striped tights, Witch & Wizard hats and capes so you can fly away to your Halloween fancy dress party in style!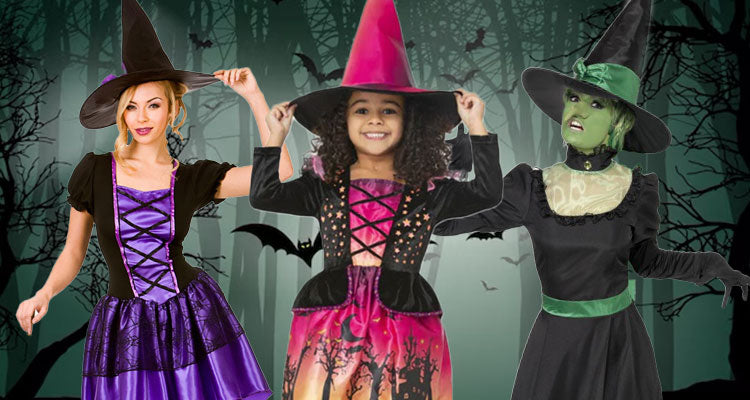 Discover Men's Witch and Wizard Halloween Costumes
Step into the enchanting world of witches and wizards with our captivating Halloween costumes for men. Whether you're conjuring spells at a Halloween soirée, brewing mysterious potions, or embarking on magical adventures, our outfits embody the mystical essence of the season. Picture yourself as a wise wizard, a mysterious sorcerer, or a crafty witch.
Embrace the Mystical Spirit: Enter a World of Magic
Halloween is a time when magic comes to life, and our costumes immerse you in the enchanting experience. Whether you're embodying the wisdom of a wizard, the mystery of a sorcerer, or the cunning of a witch, our outfits capture the essence of Halloween, transporting you to a world of wonder.
Get Ready to Enchant: Embrace Your Magical Persona
Step into the realm of spells and sorcery and let your imagination soar with our men's witch and wizard fancy dress outfits. Whether you're a wizard with a long beard and staff, a sorcerer with a cloak of stars, or a witch with a bubbling cauldron, our costumes transport you to a world of enchantment and wonder. Put on your favorite ensemble, embrace the magical spirit, and get ready to cast a spell of fascination on Halloween night.
Unleash Your Inner Mystic: Craft Your Tale of Magic
Halloween offers the perfect canvas to craft your own tale of magic. Dive into the rich lore of witches and wizards and create a character that reflects your mystical aspirations. Whether you're a guardian of ancient scrolls, a potion master, or a sorcerer seeking lost spells, our costumes empower you to become the enigmatic figure you've always dreamed of. With our outfits, you'll not only bewitch the night but also weave a story of your own making.