All Mens World Book Day Costumes
44 products
Dive into the pages of your favorite stories with men's World Book Day costumes, perfect for celebrating literature in a fun and imaginative way. Choose your character: become the iconic detective at of Sherlock Holmes for a touch of mystery, step into the adventurous shoes of Indiana Jones for a thrill, or transform into the magical Mad Hatter for a dash of eccentricity. Ideal for book-themed events, literary festivals, or school celebrations, these costumes bring beloved characters to life. A World Book Day costume for men isn't just an outfit; it's a gateway into the world of imagination, allowing you to embody the spirit of timeless tales and unforgettable characters, creating a connection between the written word and the creative expression of costume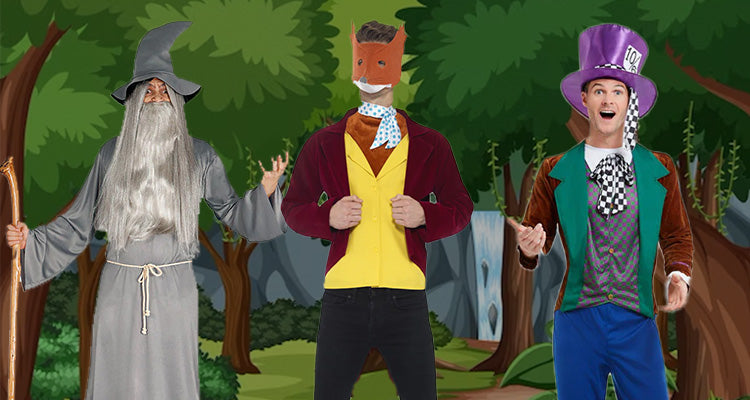 Shop men's World Book Day fancy dress
Our men's world book day fancy dress costumes offer a range of literary-inspired costumes that bring your favourite characters to life! Whether you're a teacher, parent or simply a bookworm, our wide range of book day fancy dress will ensure you are instantly recognisable.
Step into the shoes of confident Mr Fox costume, channelling the charm and charisma of Roald Dahl's iconic character. Alternatively, embrace your inner detective with a Sherlock Holmes detective kit complete with hat, pipe and magnifying glass. 
For those with a taste for adventure, embark on a swashbuckling journey as the legendary pirate Captain Hook, officially licensed from Disney.
If you prefer a touch of fantasy, transform into the enigmatic wizard Gandalf from J.R.R. Tolkien's "The Lord of the Rings." With a flowing robe, long beard, and a pointy hat, you'll be ready to cast spells and embark on an epic quest.
From classic literature to contemporary novels, our Men's World Book Day Fancy Dress Costumes category has something for every book enthusiast. Step into the pages of your favorite stories and celebrate the power of literature with our outfits that pay homage to beloved characters and the art of storytelling.