All Womens World Book Day Costumes
85 products
Shop our range of women's World Book Day costumes guaranteed to transport you into the universe of your favourite literary characters. Whether you aspire to embody the charm of Dorothy from "The Wizard of Oz," channel the magical finesse of Mary Poppins, or immerse yourself in the elegance of the Victorian Era with our exquisite Maid and Nurse costumes, we have it all.

We also stock a number of licensed costumes for women from superheroes to Hermonine Granger capes. Explore the eccentric world of Wonderland in our delightful Alice costume, or embrace the evil of the Queen of Hearts. Furthermore, our captivating range includes a plethora of adults Disney Princess costumes that are sure to capture your imagination. Our World Book Day costumes for women are perfect for bringing your favourite characters to life.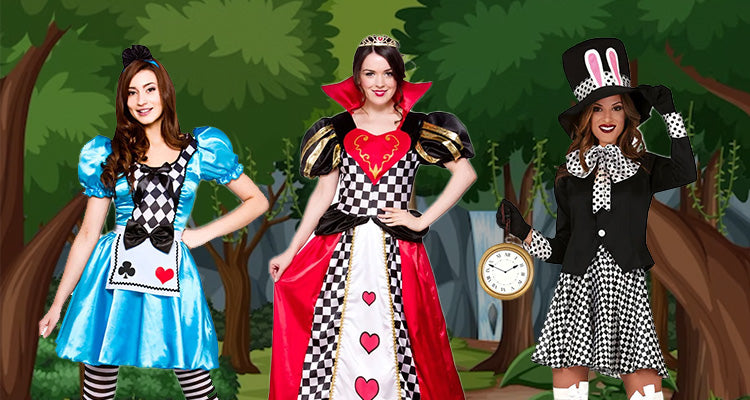 Women's World Book Day Costumes
Browse our imaginative women's World Book Day costumes, where the pages of beloved stories come to life. These costumes are a celebration of iconic literary characters and a way for women to express their love for timeless tales and adventures.

Our Harry Potter-themed costumes offer a magical experience, perfect for fans of the renowned series. Women can dress as Hermione Granger, donning her Gryffindor robe and wielding a wand, or as other beloved characters from the series. These costumes capture the spirit of Hogwarts and its enchanting world, making them ideal for book-themed events or parties.

Alice in Wonderland costumes transport wearers to a topsy-turvy world. Women can step into Alice's shoes with a blue dress and white apron, or perhaps choose to embody  the regal Queen of Hearts. These fairytale costumes are perfect for capturing the fantasy of Lewis Carroll's classic.

Red Riding Hood costumes bring to life the classic fairy tale character. The signature red cloak and basket make for a simple yet instantly recognizable outfit. Women can embrace the innocence and charm of Red Riding Hood, or perhaps add a twist to the character for a more modern interpretation. This costume is ideal for World Book Day celebrations, offering a blend of nostalgia and storytelling.

In summary, women's World Book Day costumes like Harry Potter, Alice in Wonderland, and Red Riding Hood provide a fun and creative way to celebrate beloved literary characters. They allow women to immerse themselves in different worlds, bringing the magic of these stories into real life for world book day events and celebrations.