Baby and Toddler Christmas Costumes
5 products
Dive into the festive spirit with baby and toddler Christmas costumes, the perfect way to celebrate your little one's holiday season. Choose from a delightful array of styles: a cozy, plush Santa suit for jolly charm or a miniature elf costume for those who love a bit of playful mischief. Ideal for capturing the wonder and joy of Christmas, these costumes are perfect for family gatherings, holiday photoshoots, or festive events. A Christmas costume for your baby or toddler does more than just dress them up; it wraps them in the warmth and cheer of the season, making those precious moments even more memorable.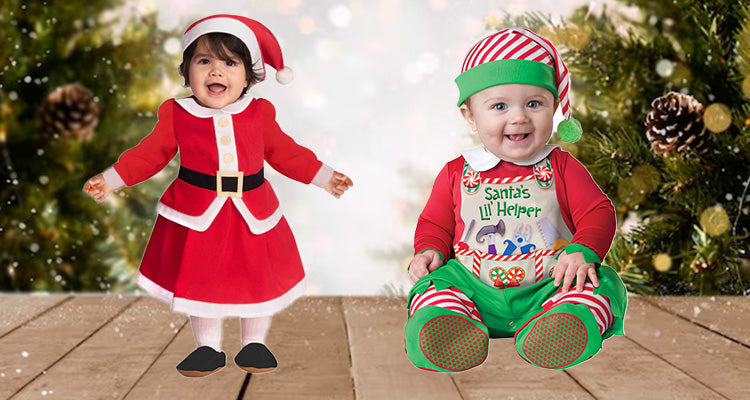 Christmas Costumes for Baby & Toddlers
Step into the delightful world of baby and toddler Christmas costumes, where the festive spirit comes alive in the most adorable forms. These costumes are not just holiday attire; they are a way to celebrate the season's joy and magic with the youngest members of the family.
Santa costumes for baby girls and boys are a classic choice. Picture tiny red velvet suits with fluffy white trim, complete with miniature Santa hats. For baby girls, these costumes might include soft, red dresses with festive accents, while baby boys can don miniature versions of Santa's iconic suit. These outfits are perfect for holiday photos, family gatherings, or just bringing a smile to everyone's face during the festive season.
Elf baby costumes add a magical touch to the Christmas spirit. These costumes typically feature bright greens and reds, with playful details like jingling bells, striped leggings, and pointy elf hats. Whether it's a snug one-piece for a newborn or a more elaborate outfit for a toddler, elf costumes are not only incredibly cute but also comfortable for little ones to wear. They capture the playful and helpful spirit of Santa's little helpers, making them a favourite choice for baby and toddler Christmas attire.
In summary, Santa and elf costumes for babies and toddlers are more than just holiday wear; they're a way to envelop the youngest in the warmth and joy of the Christmas season. These costumes bring the magic of Santa and the charm of his elves into delightful, pint-sized reality, adding an extra sprinkle of holiday cheer to any festive celebration.