Explore a world of chic and trendy styles with bob wigs, the perfect choice for a modern and versatile look. Whether you're looking for a classic straight bob in a sleek, jet-black color, a playful, curly bob in vibrant hues, or an elegant, wavy bob in soft pastel tones, there's a bob wig to suit every taste and occasion. Ideal for fashion-forward individuals, costume parties, or just a fun change of appearance, these wigs offer the opportunity to experiment with your style without a long-term commitment. Bob wigs are more than just hairpieces; they're a fashion statement, enabling you to effortlessly switch up your look and step into any persona with style and confidence.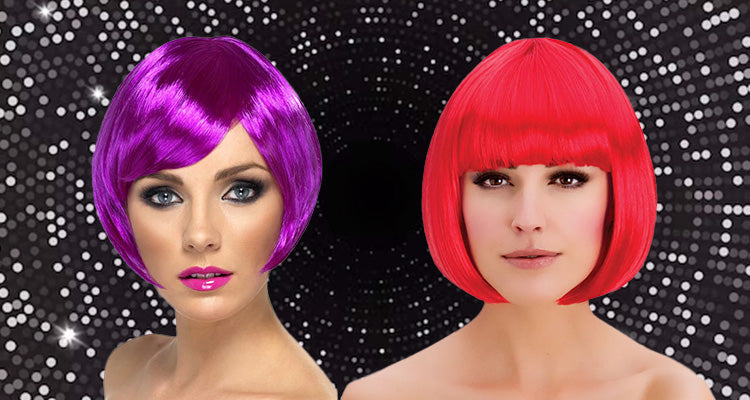 Bob Wigs
Step into the stylish and diverse world of bob wigs, a universally flattering and versatile hairpiece choice for both men and women. Far from being just another hairstyle, bob wigs are a fashion statement and a means of expression, coming in a plethora of colors to suit any preference or occasion.
Bob wigs in black offer a look of timeless elegance. They are perfect for those seeking a sophisticated, polished appearance, suitable for both formal events and everyday wear. The universal appeal of black makes it a popular choice for a wide range of skin tones and personal styles.
Blonde bob wigs are a bright and eye-catching option. They range from platinum to honey blonde, offering choices for those who want to stand out or lighten their look. These wigs are ideal for experimenting with a lighter hair color without the commitment or potential damage of bleaching natural hair.
Brown bob wigs exude natural warmth and versatility. Available in shades from light brown to rich chocolate, these wigs provide a look that can be both casual and chic, making them a great option for a subtle style change or a natural-looking hairpiece.
Colorful bob wigs, including pastel pink and greens and bright colours such as blue, red, pink and purple, offer a playful and avant-garde way to express individuality. These wigs are popular for special events, costume parties, or for anyone wanting to showcase a more unconventional and artistic side of their personality.
Bob wigs are not only fashionable but also practical as costume accessories in theater and film, aiding in character portrayal. They are a comfortable and stylish choice for those undergoing hair loss, providing a natural-looking and confidence-boosting alternative.
In summary, bob wigs come in a myriad of colors, including black, blonde, brown, red, and more vibrant hues, making them a versatile and popular choice for both men and women. They provide an easy way to experiment with different looks, enhance personal style, and embody different characters, be it in everyday life or on the stage.