Boys Halloween Costumes
139 products
Boys Halloween Costumes from Mega Fancy Dress have everything you need to get your boys ready for October 31st.

Equip your little devils with one of our red capes and tridents, or dress your little terrors up in one of our Horror Film costumes including Chucky, Saw and Nightmare Before Christmas costumes. If you're looking something a little less sinister we've got Pumpkin and Jester Costumes for all ages. For a terrifying tale why not have a look at our fairytale Halloween costumes? Your boys can be whoever (and whatever) they want to be this Halloween with our spine chillingly good selection of Boys Halloween Costumes.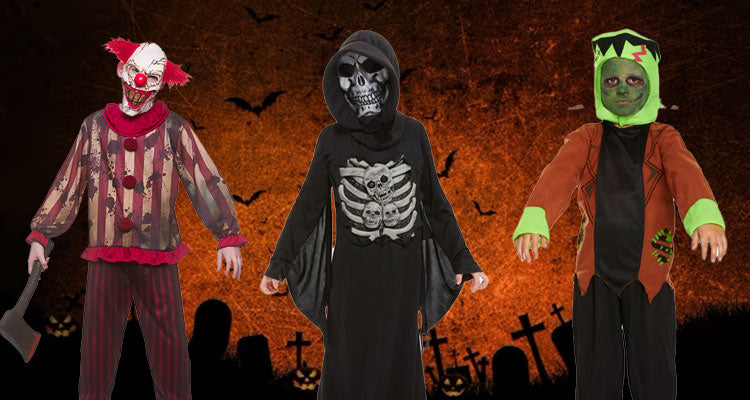 Get Spooked & Stylish: Cool Halloween Costumes for Boys!
Hey, future superheroes and daring adventurers! Get ready to dive into the spook-tastic world of Halloween with our awesome collection of costumes made just for boys. Whether you're a tiny tot or a full-grown teenager, we've got the coolest outfits that will make you the star of the night!
Unleash Your Imagination: Rock the Halloween Vibe
Imagine turning into your favorite characters, from action-packed superheroes to wild and wacky monsters. Halloween is like a special day when you can step into another world, just like in your favorite movies and cartoons. You'll get to show off your creativity and bring your dreams to life!
Heroes and Villains: Choose Your Side!
Are you a fan of superheroes like Spider-Man? Or maybe you want to become a daring ninja, a fearless pirate, or even a spooky vampire? With our Halloween costumes, you can be anything you want! It's not just about wearing cool outfits; it's about becoming the character you admire and having a blast with your friends.
Beyond the Candy: Adventure Awaits!
Sure, Halloween means candy galore, but it's also a chance for you to go on an incredible adventure. As you put on your costume and step into the Halloween theme, you'll feel the excitement in the air. You can trick-or-treat with your pals, explore haunted houses, and make memories that you'll talk about for years!
Why Halloween Rocks for Boys: Let's Dive In!
Dressing up for Halloween is like hitting the play button on your favorite video game – you enter a whole new world of fun! You get to pretend to be someone totally different, which is super exciting. It's not just about the costume; it's about getting into the spirit of Halloween and sharing the thrill with your friends and family.
Top-Notch Halloween Fun: Let's Do This!
From spooky zombies to epic warriors, our Halloween costumes for boys are all about bringing your imagination to life. So, gear up for an unforgettable Halloween adventure – grab your coolest costume, team up with friends, and get ready to make this Halloween the best one yet! Get set, boys – it's time to rock the Halloween scene like the awesome characters you are!