Celebrity Wigs
18 products
Jump into a world of glitz and glamour with celebrity wigs, your perfect sidekick for nailing that star-studded look at costume parties! Picture yourself strutting in with the iconic locks of your favorite pop diva, the classic style of a renowned movie star, or even the edgy cut of a famous rock legend. These wigs are a blast for impersonating celebrities and adding an extra dose of fun to your outfit. Ideal for themed events, Halloween bashes, or just a night of star-studded fun, celebrity wigs aren't just hairpieces; they're your backstage pass to becoming your favorite icon for a day, making you the life of the party as you channel the charisma and style of the stars!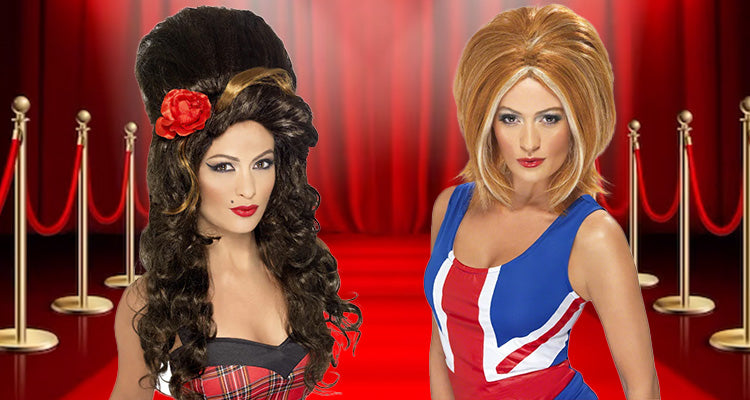 Celebrity and Icon Wigs
Explore the captivating world of celebrity wigs, a delightful choice for fans and enthusiasts looking to emulate the iconic styles of famous personalities. These wigs offer a unique blend of nostalgia, admiration, and fun, allowing both men and women to step into the shoes of their favorite stars from various eras.
Spice Girls wigs bring back the vibrant energy and distinctive styles of the 90s' most famous girl band. Each wig represents the unique look of the Spice Girls members - from Scary's wild curls to Ginger's sleek bob. These wigs are perfect for group costumes, themed parties, or any fan wanting to celebrate the iconic looks of the band. They capture the essence of each member, allowing fans to embody the spirit of Girl Power in true Spice Girls fashion.
Amy Winehouse wigs are instantly recognizable with their beehive style and signature look. These wigs replicate Amy's iconic hairdo, often in black, and sometimes paired with her distinctive hair accessories. Perfect for tribute acts, costume parties, or fans of the talented singer, these wigs are a homage to Winehouse's unforgettable and influential style.
Elvis wigs bring the King of Rock 'n' Roll's legendary look to life. These wigs typically feature his famous slicked-back pompadour and sideburns, capturing the essence of Elvis Presley's unique and enduring style. Ideal for impersonators, themed events, or fans of the rock legend, Elvis wigs allow wearers to step back into the golden era of rock and embody the charisma and flair of Elvis.
In summary, celebrity wigs like those inspired by the Spice Girls, Amy Winehouse, and Elvis Presley offer a fun and creative way to connect with the world of entertainment. They enable fans to recreate the iconic styles of these beloved figures, bringing a piece of pop culture history to life and adding an extra layer of excitement to costumes and performances.