Christmas Wigs and Beards
4 products
Hop into a jolly world of holiday fun with Santa wigs and beards, perfect for bringing the magic of Christmas to life! Imagine yourself transforming into Santa Claus with a fluffy white beard and a long, wavy wig that looks just like Santa's hair. These wigs and beards are super for Christmas parties, school plays, or for surprising your friends and family. Santa wigs and beards make your Santa costume look really real, like you've just come from the North Pole! They're not just for dressing up; they turn you into the jolliest, most festive Santa around. So, put on your Santa wig and beard, give a big "Ho Ho Ho," and enjoy spreading cheer and smiles!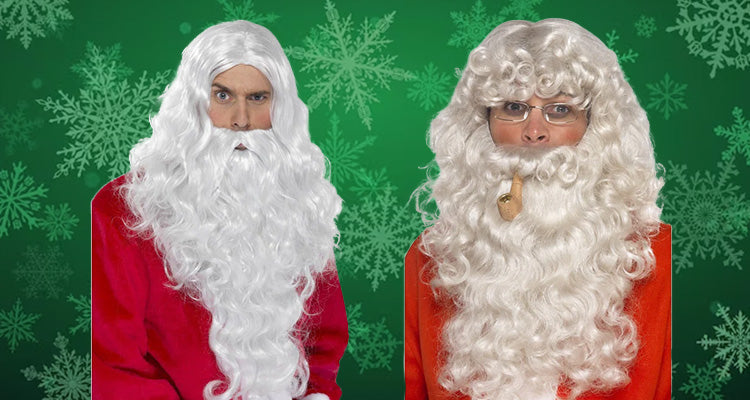 Christmas Wigs and Beards
Enter the festive and joyful world of Christmas wigs, a delightful addition to holiday celebrations for both men and women. These wigs go beyond typical hair accessories; they're an integral part of creating a vibrant and merry Christmas atmosphere, perfect for parties, performances, and seasonal events.
Santa Claus wigs, with their snowy white curls and matching beards, are a classic choice. These wigs capture the essence of the beloved Christmas character, ideal for men dressing up as Santa for holiday gatherings, community events, or theatrical productions. The full, white beard and wig set instantly transforms anyone into the jolly figure of Christmas cheer.
Christmas-themed wigs can also include more unconventional styles, like tinsel wigs or wigs that mimic a Christmas tree or snowman. These fun and creative options are perfect for holiday parties and are sure to be conversation starters, adding an extra layer of festivity to the wearer's outfit.
In summary, Christmas wigs and beards offer a festive and fun way to enhance the holiday spirit for men and women. They're perfect for a wide range of Christmas activities, from professional engagements to casual celebrations, helping to bring the joy and warmth of the holiday season to life.