Devil Costumes
44 products
We have a devilishly good selection of Devil fancy dress costumes to make you feel red hot this Halloween!

Raise hell dressed up in our evil selection of Devil fancy dress costumes, we have everything from dapper devils to classic red Devil fancy dress for all ages! Turn heads dressed up as a demonic Queen, or stand out from the crowd of Halloween characters in our Day Of The Dead Devil costumes. We also have a great range of Fever Ladies Devil costumes!

Complete your Devil fancy dress with our Halloween Accessories, our Devil Accessories range include Devil Lord Masks, gloves, red capes, Devil Horn headbands and red tights!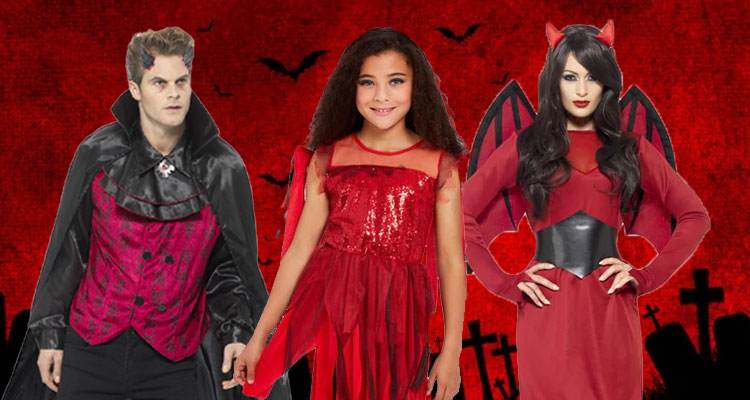 Embrace the Haunting Season: 
As the spooky season approaches, it's time to step into a world of temptation and wickedness with our collection of devil-inspired Halloween costumes. Get ready to unleash your inner demon and create a truly devilish look that's perfect for the dark and enchanting atmosphere of Halloween.
Embody the Spirit of Halloween:
Devilish Attire Capture the essence of the haunting season with our range of stylish devil-themed Halloween costumes for both kids and adults. Whether you're trick-or-treating, attending a Halloween party, or just getting into the eerie spirit, our outfits embody the dark and alluring vibes of Halloween. From fiery red ensembles to dramatic capes, you'll be the epitome of devilish style.
Complete Your Spooky Look:
Devilish Accessories No Halloween costume is complete without the right accessories. Elevate your devilish ensemble with our matching accessories, including devil horns headbands and pitchfork props. These finishing touches add an extra layer of authenticity to your Halloween look, ensuring you're ready to tempt and spook with your devilish charm.
Embrace the Halloween Spirit:
Hauntingly Memorable Halloween is a time for ghosts, ghouls, and all things eerie, and our devil costumes allow you to embody the dark and mysterious side of this bewitching holiday. Whether you're a fan of classic Halloween tales or you're embracing the dark and mysterious atmosphere, our outfits capture the iconic symbolism and imagery that define this enigmatic character during the haunting season.
Get Ready to Haunt:
Unleash Your Inner Devil Step into the world of Halloween and let your inner devil shine with our devilish Halloween costumes. Whether you're unleashing your fiery nature, donning crimson attire, or embracing the allure of the unknown, our costumes transport you to a realm of darkness and desire, making your Halloween unforgettable. So, put on your favorite ensemble, embrace the Halloween spirit, and get ready to tempt and enchant with the allure of the devil on this haunting night.