Disney Princesses Costumes
162 products
Our extensive range of Disney princess costumes is sure to make all of her sweetest dreams come true. Whether she wants to dress up as the beautiful Belle from Beauty and the Beast or as the Brave Merida, we have everything to suit your little one's wish with the best online prices.

We also stock a range of officially licensed adults Disney Princess costumes for adults who still hold a special place in their hearts for Disney.

So get ready to be skipping off into a faraway kingdom in style when you wear one of our stunning Disney fancy dress costumes to a Fairytale themed costume party.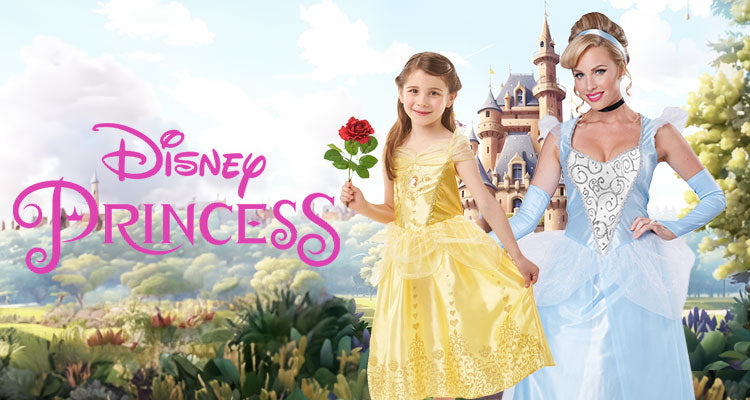 Elevate Your Costume Game with Disney Princess Costumes & be the Princess you always wanted to be!

The enchanting realm of Disney Princesses is now more diverse than ever, ensuring that every individual can find their ultimate favourite character. Each Disney Princess embodies unique values and possesses distinct characteristics that make them beautifully unique. Whether you aspire to be the belle of the ball, elegant like Belle herself, or if you're feeling brave and honourable like Raya and Mulan, we have the perfect costumes to make you feel like royalty.

At Mega Fancy Dress, we proudly offer an array of officially licensed Disney Princess costumes that allow you to step into the shoes of your beloved characters. Our selection spans a magical spectrum, ensuring that your dream costume is just a click away.

Dive Into Our Magical Disney Princess Costume Collection


Explore our enchanting collection of Disney Princess costumes, each designed to capture the essence and magic of these iconic characters.

**1. Belle's Beauty and Grace:** Slip into Belle's iconic golden gown and transport yourself to the enchanting world of Beauty and the Beast. Our officially licensed Belle costume will make you feel like a true Disney princess ready to explore your own tale as old as time.

**2. Courageous Raya and Mulan:** If bravery and honour are your guiding principles, transform into the fearless Raya or the legendary Mulan with our meticulously crafted costumes. Feel the strength and determination of these iconic characters as you embark on your own adventures.

**3. Dreamlike Sleeping Beauty:** Our talented merchandising  team has reimagined the perfect Sleeping Beauty dress for you. Slip into Aurora's iconic pink gown and embody the grace and charm of this timeless character.

**4. Tiana's Transformation:** No need to kiss a frog to become a princess! Our Tiana costume will instantly transform you into the resilient and resourceful character from "The Princess and the Frog."

**More Than Just a Costume:** At Mega Fancy Dress, we don't just provide costumes; we offer a gateway to the world of Disney magic. Our costumes are crafted with attention to detail, ensuring that you not only look the part but also feel like a true Disney Princess.

**Your Journey Begins Here:** Whether you're preparing for a costume party, a magical Disney-themed event, or simply want to experience the enchantment of Disney Princesses, our collection of costumes is your ticket to an unforgettable adventure.

**Embrace the Magic of Disney with Our Disney Princess Costumes**

Celebrate Diversity and Unleash Your Inner Disney Princess with Mega Fancy Dress. Explore our Disney Princess costume collection today and let your fairy tale dreams come to life!