Fairy Costumes
8 products
Dress up in beautiful fairy costumes and get ready for a day full of enchanting adventures and magical fun! Imagine yourself as a delicate fairy with shimmering wings, fluttering around a garden or just having a magical time at home. These fairy costumes are perfect for fairy-tale-themed parties, school events, or just a day filled with imagination and sparkle. Fairy costumes are great for pretending to be a tiny, magical being, exploring nature, and spreading a little fairy dust wherever you go. So, choose your favorite fairy outfit and get ready for a day of twinkling, dancing, and having a magically delightful time!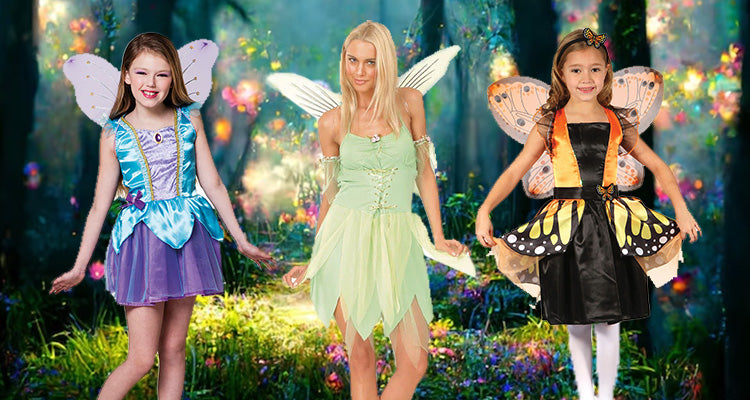 Fairy Fancy Dress Costumes
Step into a magical world with fairy costumes, where women and girls can transform into enchanting creatures of the forest and air. These costumes are a way to bring fairy tales to life, perfect for costume parties, themed events, or just fluttering around the garden.
Girls' fairy costumes come in beautiful colors and designs. You can find lovely purple fairy costumes that make you feel like you're part of a magical flower garden. Green fairy costumes might make you feel like you're a little leaf or a part of the forest, fluttering around with the other woodland creatures. The butterfly fairy costumes are super special, with wings that look just like a real butterfly's. All these costumes often come with pretty dresses, sparkling wings, and sometimes even a wand or a headpiece. They're perfect for girls who love to dress up and imagine they're flying around, spreading magic wherever they go.
For women, the green fairy costume is a gorgeous choice. It's often designed with elegant details, shimmering fabrics, and beautiful wings that make you feel like a graceful forest guardian. This costume is great for themed parties, Halloween, or any event where you want to add a touch of enchantment.
To make any fairy costume even more magical, there's also a pink fairy accessory set. This set might include things like a sparkly wand, a tiara, or shiny wings, all in pretty shades of pink. It's perfect for adding a bit of extra fairy sparkle to your outfit.
So, for a day filled with magic and enchantment, fairy costumes are a wonderful choice. Whether you're a little girl or a grown-up, you can feel like a beautiful fairy, fluttering and twinkling in your own magical world.