Fairytale Halloween
118 products
Our Fairytale Halloween costumes feature your favourite story book characters, however not how you remember them!

Wonderland is more like Horror land in our twisted Alice in Wonderland Halloween costumes, including Dark Hatter fancy dress, Zombie Queen of Hearts and Gothic Alice costumes! Turn heads in our Disney Princess Halloween costumes- they aren't as beautiful as they are in the movies! We also have Dead Riding Hood & Wolf fancy dress, Evil Queens, Dark Fairies, Deadly & Zombie Dorthy costumes and many more!

In our Halloween Fairytale costumes you will look anything but enchanting!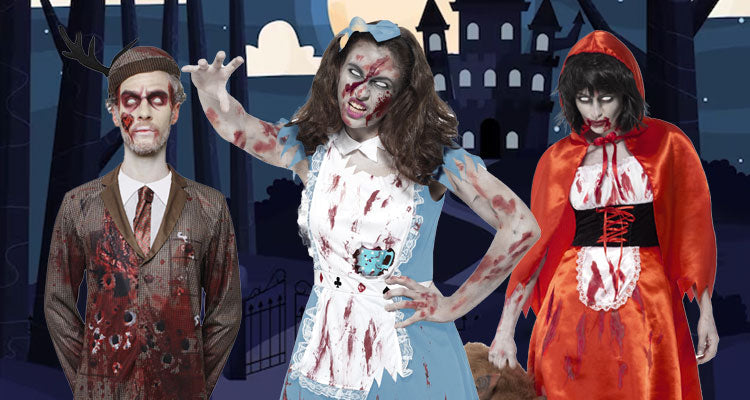 Embrace the Enchantment of Fairy Tales this Halloween
Prepare to step into the enchanting world of fairy tales and folklore with our captivating costumes designed for a magical Halloween celebration. Whether you're gearing up for a fantastical Halloween party, a night of trick-or-treating, or simply seeking to embody the whimsical essence of classic tales, our outfits transport you to the realms of knights, princesses, wizards, and mythical creatures.
Enter the Realm of Magic: Become a Character from Fairy Tales
Fairy tales have long been a source of wonder and imagination, and our costumes allow you to fully immerse yourself in the enchanting spirit of these beloved stories. Whether you're donning the attire of a valiant knight ready to rescue a damsel in distress, a charming prince or princess waiting for their happily ever after, or a mystical wizard with spells to cast, our outfits capture the essence of magical adventures.
Complete Your Fairy Tale Look: Accessories for Extra Enchantment
No fairy tale costume is complete without the right accessories. Enhance your fantastical ensemble with our matching accessories, ensuring you're ready to embark on your own fairy tale adventure. Think about adding tiaras, crowns, swords, wands, or wings to transform into the fairy tale character of your dreams. These details add an extra layer of authenticity to your look, making you the ultimate embodiment of fairy tale enchantment.
Relive the Timeless Stories: Embrace the Magic of Halloween
Fairy tales have enchanted generations with their timeless tales of heroism, love, and magic, and our costumes allow you to step into this captivating and whimsical world. Whether you're a fan of classic stories like Cinderella, Snow White, or King Arthur, or you're drawn to the enchanting creatures of folklore, our outfits capture the iconic styles and the spirit of adventure that define these magical tales. Prepare to embark on your own fairy tale journey this Halloween, where the magic of the stories comes to life in your own enchanting character.