Girls Christmas Costumes
30 products
Christmas is the perfect opportunity to dress your little one up in our Girls Christmas & Nativity costumes. We have a great range of fun and traditional girls' Christmas costumes, not forgetting our Girls Nativity fancy dress- great for school Nativity shows!

Transform her into Miss Clause with our classic red Miss Santa costumes, or maybe she fancies helping Santa make the presents this Christmas dressed up as a super cute Elf, she could even get up so some mischief in our girls Elf on the Shelf fancy dress. Not forgetting our Angel, Snowman and Reindeer fancy dress costumes! If you are looking for a Nativity-themed fancy dress we have all the classics, including Mary, Angel Gabriel and Shining Star costumes!

Our Girl's Christmas & Nativity costumes are great for spreading a bit of holiday cheer and will look great at Christmas-themed fancy dress parties!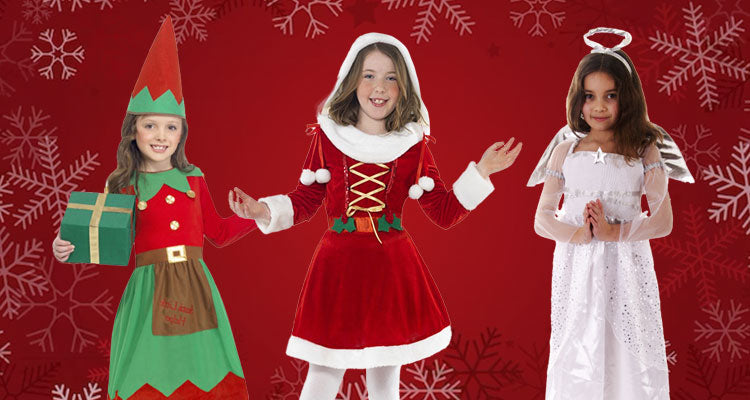 Girls Christmas Costumes
Step into the magical and cheerful world of girls' Christmas costumes! These outfits are perfect for getting into the holiday spirit, whether it's for a festive party, a school play, or just playing at home.
Santa Claus costumes are super fun for girls who want to dress up as Mrs. Claus or even as Santa herself! These costumes usually come in red and white, complete with a cute Santa hat. They're perfect for pretending to deliver presents or for being part of a Christmas play.
Elf costumes are adorable and full of Christmas cheer. They're often in bright red and green, with fun hats and sometimes even elf shoes! Girls can have loads of fun pretending to be one of Santa's elves, making toys and getting ready for Christmas.
For nativity plays, there are beautiful costumes like angels or Mary. These outfits are great for telling the special Christmas story, with pretty robes and headpieces that make girls feel like they're part of the magical night.
Reindeer costumes are just the cutest, especially for little girls. They often come with soft antlers and a shiny red nose, perfect for acting like Rudolph! These costumes are great for a fun Christmas party or for a super cute holiday photo.
So, girls' Christmas costumes are all about dressing up, having fun, and getting into the Christmas mood. Whether as Santa, an elf, a nativity character, or a reindeer, these costumes are all about spreading happiness and making lovely Christmas memories!