Kids Angel Nativity Costumes
11 products
Explore the magic of angel nativity costumes, perfect for bringing a touch of heavenly wonder to any Christmas story. Choose your angelic attire: a classic white gown with glimmering silver accents to capture the purity of the celestial realm, a soft, flowing robe complete with golden wings for a majestic look, or a sparkling, light-embellished costume for a modern twist on traditional charm. Ideal for nativity plays, Christmas pageants, or holiday celebrations, these costumes transform wearers into serene messengers of the nativity tale. An angel nativity costume is not just a garment; it's an embodiment of peace and joy, adding a radiant layer of spirituality and awe to the timeless Christmas narrative.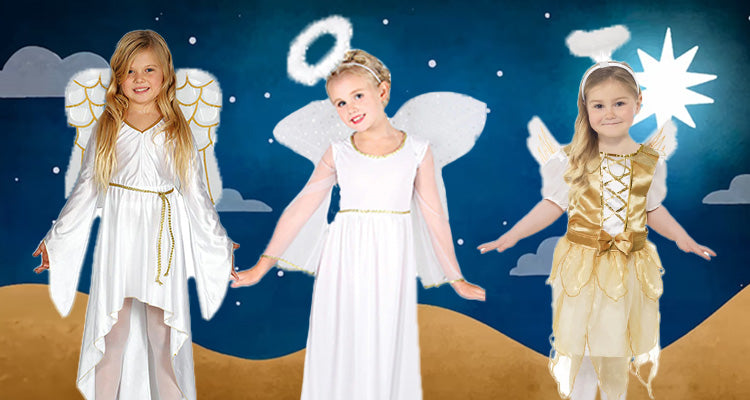 Shop Nativity Angel Fancy Dress for Kids
Embark on a magical journey to the world of angel nativity costumes, a important element in Nativity plays and Christmas Events. These costumes are more than just outfits; they offer a way for boys, girls, men, and women to embody the celestial beauty and purity of angels, integral to the Christmas story.
Angel nativity costumes typically feature shades of white and silver, symbolizing purity, innocence, and the heavenly realm. The gentle, luminous hues capture the essence of angelic beings, portraying them as messengers and protectors in the biblical narrative of Jesus' birth.
For children, the angel costumes are crafted to be more comfortable and enchanting, ensuring little ones can participate in the play with a sense of wonder and delight. The simplicity of the design, often with added elements like gold trim or sparkles, allows young wearers to feel like they're part of a heavenly host, bringing joy and magic to their portrayal.
Accessorizing these costumes with wings and halos is crucial. The wings, typically made of lightweight materials and often featuring feathery or shimmering details, add an element of authenticity and splendor. The halo, a symbol of holiness and divine light, completes the transformation, enhancing the portrayal of the angel as a figure of hope and guidance.
In summary, angel nativity costumes, characterized by their white and silver garments, complemented by wings and halos, are essential for those playing angels in Nativity plays. They not only contribute to the visual storytelling but also allow the wearers to step into their roles with a deeper appreciation of the angels' symbolic and inspirational role in the Christmas narrative.