Kids Pirate Costumes
55 products
Many children aspire to one day becoming a fearsome swashbuckling pirate sailing the seven seas on the quest for treasure, and with our fantastic range of Kid's Pirate fancy dress costumes, their dreams can become a reality.

Our large range of boy's and girl's Pirate fancy dress costumes contain everything for turning them into the most stylish swashbuckler around.

Whether they are looking to recreate Johnny Depp's classic look in our official Kid's Captain Jack Sparrow costume or would prefer to dress as a more classic-looking storybook pirate, we are sure we have a pirate fancy dress costume to suit what you are looking for and at the best prices online!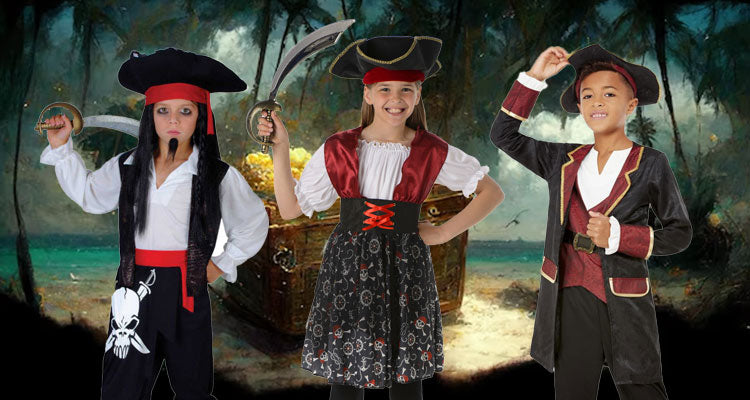 Childrens Pirate Costumes
Set sail into a world of adventure with kids' pirate costumes! These outfits are perfect for little ones who dream of exploring the high seas and embarking on exciting treasure hunts.
Kids' pirate costumes often include cool pirate hats or bandanas, and some come with fun accessories like eye patches, toy swords, or even a pirate map. The costumes might feature a striped shirt, a waistcoat, and trousers or a skirt, making the young ones look like real-life pirates!
Whether for a school play, a themed birthday party, or just for playing dress-up at home, these costumes come in various styles to suit every young buccaneer. They're designed to be comfortable and easy to move in, so kids can run and play as much as they like.
Dressing up in a pirate costume is great for sparking children's imaginations. They can pretend to sail across the oceans, discover hidden treasures, or lead their crew in thrilling adventures. It's perfect for storytelling, playing with friends, or even putting on a little show for the family.
So, for any kid who loves pirates and adventures, a pirate costume is a fantastic choice. It's all about having fun, using their imagination, and creating their own exciting pirate stories. Ahoy, little mateys!
Accessorize your pirate costume with our pirate accessories.