Men's 1920s Costumes
12 products
It's time to turn back time and rewind to the 1920s with our inspired men's fancy dress, baby!

Channel your inner Charlie Chaplin with our 1920s star costume or get into the gangster vibe in one of our smokin' gangster suit sets.

Flapper girls are guaranteed to flock in your direction when you complete your look with one of our 1920's themed accessories, such as inflatable guns, stylish moustaches, fashionable fedoras or old-school braces.

There is no baloney with our range of men's costumes, only popular ideas to jazz up any fancy dress occasion!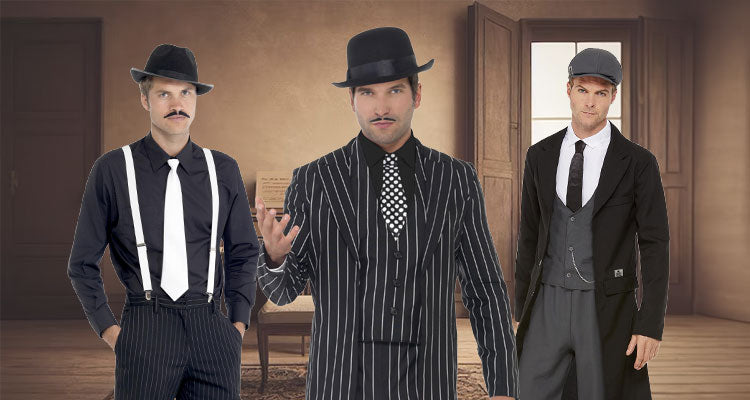 Mens 1920s Costumes
Step back in time with men's 1920s costumes, a captivating way to dive into the glamour of the Roaring Twenties. These costumes allow men to embody the fashion and spirit of one of the most dynamic decades in history.

Gangster suits are a classic choice for the 1920s look. Pinstripe suits, fedoras, and tie-and-vest combinations are iconic of the Prohibition era's infamous gangsters. We have accessories like toy Tommy guns and pocket watches, the perfect addition for channeling the notorious yet dapper style.

Peaky Blinders-style costumes have gained popularity, thanks to the hit TV series set in this era. These outfits typically include newsboy caps, woolen tweed suits, and long overcoats, reflecting the gritty yet stylish attire of the Birmingham gang members from the show.

For a more casual 1920s look, men can choose costumes that include vintage bathing suits reminiscent of the decade's leisurewear. This style is perfect for a laid-back yet authentic 1920s vibe.

In summary, men's 1920s costumes offer a journey into the past, featuring styles ranging from the suave gangster to the lavish party-goer of the Jazz Age. These costumes provide a perfect way to experience the fashion and flair of the 1920s, whether for a themed event, a theatrical production, or a costume party.