Men's 60s & 70s Costumes
57 products
Our 1960s and 1970s-inspired fancy dress is downright groovy, man! Be the epitome of funky in our awesome array of psychedelic hippie men's outfits so you can boogie down with your fellow party-goers in the ultimate '60s or '70s style.

From retro disco dancer outfits to flared trousers and pimp costumes, our stock of 70's inspired menswear is far out!

We stock a range of character-inspired looks from the 60s and 70s for men. Check out our stock below to find ruffle shirts, flared trousers and everything you need to boogie.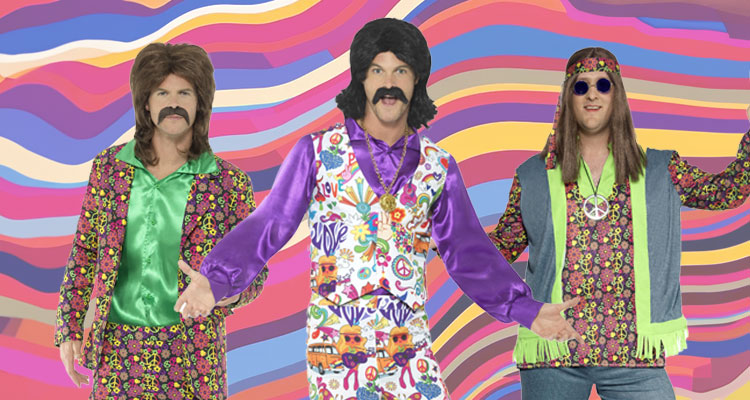 Shop men's 60s & 70s fancy dress costumes
Full of politics and new music, the 1960s was an era of protest, change and unforgettable fashion, making it an incredibly popular fancy dress theme. Look like Freddy Mercury with our licensed Breakfree Housewife fancy dress. 
You can don one of our men's Flintstones or Thunderbirds costumes for a quirky twist on the swingin' sixties style. Become one of the Fab Four in our Beatles inspired sets and we also stock a hip selection of ace accessories to top off your 1960's costume.
Arrive to any fancy dress party in our swanky 1970's sets and have your friends cheering: "Right on!". Look the part of the ever-popular Ziggy Stardust, an incredibly stylish icon of the era, or be an instantly recognisable flower man with our hippie inspired costumes. Our stock of men's leisure suits, made popular by John Travolta in Saturday Night Fever, will certainly turn heads at all fancy dress events.

Accessories of all colours and styles are sure to be found here, ranging from golden medallions and zebra print shoes to sassy moustache and wig sets. With an eclectic array of colourful suits and 70's shirts, both ruffled and flared, we can kit you out to feel the funk when you boogie at any themed occasion!